Visual wit / cinematic poetry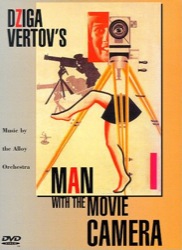 Think of this as a very early black and white version of the cinematic poem-films of Koyaanisquatsi and Baraka. Filmed in Russia in 1929 it records the hustle and bustle of ordinary life. In filmic style it foreshadows many of the techniques used in Koyaanisquatsi and Baraka — time lapse clips of city traffic pulsating organically, montages of people working, fighting, loving, living, and since this is Russia, a photographic celebration of machines at work. But unlike the later films, this one has a curious recursive dimension. The man with the movie camera (the filmmaker himself) appears throughout the film, busily making the film as one of life's many activities, and the film ends with an enthusiastic theater audience watching this very film. At a distance of 90 years, I found the particulars of everyday life in Russia more interesting than the general ode to life. But both work. The silent film has been smartly and modernly scored from notes left by the filmmaker.
There are three versions for the sound track of this film on DVD. The original film was silent with a score suggested for live orchestral accompaniment. In the version I watched — the one offered by Netflix — Alloy Orchestra used those original musical notes to create a vigorous new score with appropriate sound effects. There are two other contemporary versions, including a score by Michael Nyman, available for sale. The film's entry on Wikipedia can help you sort these out.
— KK
Man With the Movie Camera
Dziga Vertov
1929, 68 min.
DVD (2002), $18
Available to watch for free at the Internet Archive
Read more about the film at Wikipedia
Rent from Netflix
Available from Amazon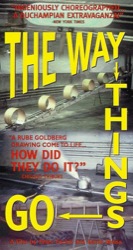 This supremely demented documentary by two German artists presents a continuous chain reaction than runs for the length of the film. Old tires, ladders, shoes, flames and explosions trigger the next piece of precariously balanced junk. This art-piece is greatly appreciated by nerds for the amazing chemistry and physics required to keep self-generated chaos on track. Science teachers play the video for lessons in equilibrium and causation, while artists roll the film at parties for an irresistible and mesmerizing spectacle. I like it for the illustration of the never-ending chain reaction that seems to take over the world. A Mr. Wizard science demonstration that takes on its own life.
— KK
The Way Things Go
Directed by Peter Fischli and David Weiss
1987, 30 min
$16, DVD
Read more about the film at Wikipedia
Rent from Netflix
Available from Amazon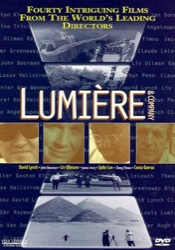 What would world famous film directors do if all they had was the naked simplicity of the very first movie camera? Could they produce anything as interesting as the first movies made? Twenty modern directors try. They load up an original camera with new film and deliver an unexpected variety of very short (3 minutes) film vignettes. Constraints yield creativity; this is a very cool way to teach history.
— KK
Lumiere & Co.
Directed by David Lynch
1995, 88 min
$33, DVD
Read more about the film at Wikipedia
Rent from Netflix
Available from Amazon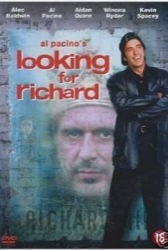 What a little-known gem! Actor Al Pacino initiated this film to increase the awareness and appreciation of Shakespeare. His intent was to merge the making of a Shakespeare play, with the play itself. So in this documentary all the embryonic stages of play are woven unfinished into the finished play. For instance, the table readings for the cast, the rehearsals, the director's research, the arguments with the producer about how to stage it, are all mixed into the final sequence of this Shakespeare movie. It's a wonderfully weird hybrid, which maximizes the medium of film. The brilliance stems from Al Pacino's experience as a Shakespearean actor, where he discovered that the making of the play provided far more understanding of the text than the audience ever got, so let's let the audience in on the construction and development. As the actors grapple with the play's text — what does this old word mean? Why does the character do this at this moment? What is going on in this scene? — they (and the audience) begin to unravel the play's meaning. The play in this case is one of the most challenging of all Shakespeare plays, Richard III. There's tons of people, with multiple names, cross-cutting relationships, and lots of historical references. Usually, audiences are lost. However, in Looking for Richard, you get centered and oriented as the final film switches from full period-costume location, to location scouting, to the same actors reading around a table and then debating what it meant, then switching to an annotation by a Shakespearean expert, or insightful comments by other Shakespearean actors, then a visit to a historical footnote, and then back to the ongoing scene on stage. Looking for Richard is the most intense and rewarding Shakespeare I've ever seen. Heaven would be one of these factuals for everyone of Shakespeare's plays.
— KK
Looking for Richard
Directed by Al Pacino
1996, 112 min.
$3, Amazon Instant Video rental
Read more about the film at Wikipedia
Rent from Netflix
Available from Amazon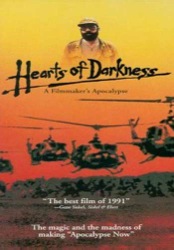 A film is like an invasion. Vietnam War's most memorable film, Apocalypse Now, like the war itself, nearly did in its creators. Francis Ford Coppola's wife filmed the director as his project sank deeper and deeper into sheer, irretrievable chaos. This is a strange case where the movie about the movie is just as good as the movie.
— KK
Hearts of Darkness
Directed by Eleanor Coppola
1991, 96 min.
$11, DVD
Read more about the film at Wikipedia
Available from Amazon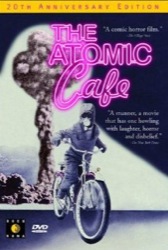 This is a self portrait of nuclear bombs and atomic energy. It was assembled from unaltered documentary clips produced by governmental and industrial agencies during the 1940s and 50s and even 60s. We get inside views of this iconic technology not usually seen. The parade of images and voices are cinematic and riveting; at times nuclear is beautiful, then silly, and then horrifying. Yet the narration of the time reflects a nonchalant acceptance of atomic power as wholesome. On first viewing, this montage of found visual evidence seem ridiculous, campy, kitsch. Could anyone believed it? But on second view the propaganda is stark and scary. There's no overt preaching in this film; only the words and images of the time. I think this brilliant documentary should be mandatory for all students.
— KK
The Atomic Cafe
Directed by Jayne Loader and Kevin Rafferty
1982, 88 min
$17, DVD
Watch the film on Youtube.
Read more about the film at Wikipedia
Available from Amazon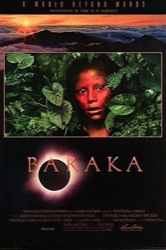 A cinematic poem celebrating the human relation to the eternal. Not a word is spoken, but every person alive in the twenty-four countries this was filmed in would understand it. It s about Us on Earth Now. It s the first truly sacred film I ve seen (best viewed in DVD on as large a screen as possible). Next time they send a disc into space to be viewed by aliens, this is the disc they should send.
— KK
Baraka
Directed by Ron Fricke
1992, 104 minutes
$3, Amazon Instant Video rental
Read more about the film at Wikipedia
Rent from Netflix
Available from Amazon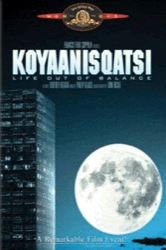 A mind-tripping impressionistic view of how the collision between nature and technology has given birth to an apolacyspe on earth. Using very innovative (in 1970s) time-lapse footage, the ordinary rythms of civilization are made alive and mesmerizing. Unlike the film Baraka (reviewed here), which later borrowed the same time-shifting and space-scanning techniques to create a prayerful ode to humanity, this documentary despairs about the consequences of our encroaching machinery. It shows we are seduced by the bright flashing lights of the city, while underneath run all kinds of explosions and destruction, captured in slow motion! If you like this surprisingly beautiful distopia, then you should know this is the first of four films by the same director, all similar in design, all ending in "Qatsi," and all of which get increasingly darker. Setting aside its sermonizing, the film is a wonderful kailoscope of modern life on this planet, for better or worse.
— KK
Koyaanisqatsi
Directed by Godfrey Reggio
1983, 87 min
$3, Amazon Instant Video rental
Read more about the film at Wikipedia
Rent from Netflix
Available from Amazon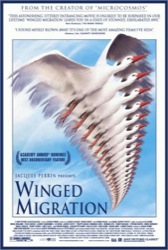 Fly like a bird! You are a bird in flight, wing to wing with your feathered brethren as you fly south in this remarkable film. Shot over five years by training birds to fly alongside ultra light planes in locales around the world, this documentary magically immerses you into the bird dimension. Be the bird! Graceful and beautiful, and extremely satisfying. I found it an out-of-the body experience.
— KK
Winged Migration
Jacque Perrin
2001, 89 min.
$10, DVD
Read more about the film at Wikipedia
Rent from Netflix
Available from Amazon
Back to Top