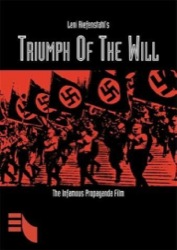 A prime record of the 20th century. This two-hour documentary was created as a propaganda film for the Nazis, to introduce Germany and the world to Adolf Hitler and his deputies Heinrich Himmler, Joseph Goebbels and other now infamous men. It was filmed during the Nuremberg Rally in 1934 and features amazingly vivid scenes: stadiums of hypnotized youth, infinite marching columns of black-booted soldiers, and the awesome spectacle of precision mass rallies. All these now-cliche'd cinematic images were invented by this true film. The access is so close, the shots so artistically designed, that one feels as if it were a scripted Hollywood movie, which it kind of is. Each shot is staged with supreme drama. At the climax, Hitler delivers his Third Reich speech, and we can see each drop of sweat roll down his face. For a full understanding of how this film captured (and disseminated) the Nazi ideology, listen to the historian's commentary track, in addition to the English subtitles.
— KK
Triumph of the Will
(Triumph des Willens)
Directed by Leni Riefenstahl
1934, 110 minutes
$26, DVD
Read more about the film at Wikipedia
Rent from Netflix
Available from Amazon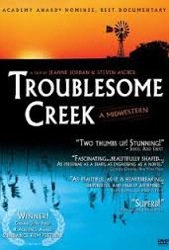 A gentle, polite and very mid-western look at how a hard-working Iowa farm family loses their farm and sells it off in a mid-winter auction. Sounds boring, but the filmmaker manages to make it dramatic and insightful, because it is the filmmaker's own family losing all they have. This very intimate window makes this film a real ticket into the deepest crevice of heartland America.
— KK
Troublesome Creek
Directed by Jeanne Jordan & Steven Ascher
1995, 88 min.
$3, Amazon Instant Video rental
Read more about the film at Wikipedia
Rent from Netflix
Available from Amazon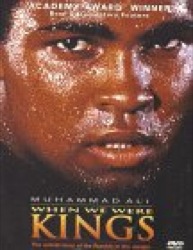 Ostensibly a documentary about Muhammad Ali's 1974 championship bout with George Foreman in Kinshasa, Zaire ("The Rumble in the Jungle"), but a much broader and engaging exploration of hero worship, racial divides and the ultimate marriage of PR and symbolism. The Foreman of When We Were Kings isn't the jolly bald guy you see today on TV hawking low-fat grilles. With crazy hair, a crunching punch, and a look that makes him appear that he wants to tear your ears off, Foreman is a junkyard dog, ready to pound Ali into paste. The insights of fight attendees like Norman Mailer and George Plimpton provide a nice spark, but the film really lights up every time Ali appears on-screen or opens his mouth. Nice bonus: great musical moments by James Brown and Miriam Makeba at a concert preceding the fight.
— JD
When We Were Kings
Leon Gast
1996, 89 min.
$10, DVD
Read more about the film at Wikipedia
Rent from Netflix
Available from Amazon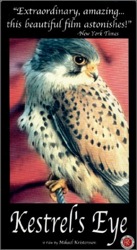 Nature photography doesn't come much purer. Filmed over several years from and in a church tower in Norway, this unadorned film of hawk life, from birth to death, is seen from the birds' eye view, with no human narration. Extreme filmmaking, extreme birdness.
— KK
The Kestrel's Eye (Falkens oga)
By Mikael Kristersson
1999, 89 min
$15, DVD
Rent from Netflix
Available from Amazon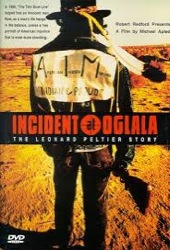 This classic documentary treats the political awakening of Native Americans in the 1970s by dissecting the unjust arrest and imprisonment of several Amerindians after a shootout in the reservation village of Oglala, Dakota. You can follow the ins and outs of the evidence, trial, and re-trials, which make their injustice a lot clearer now, in retrospect. Or you can use the interviews and cross-accusations among themselves to see what the world looks like from the dirt roads of the rez.
— KK
Incident at Oglala: The Leonard Peltier Story
Directed by Michael Apted
1992, 90 min.
$3, Amazon Instant Video rental
Read more about the film at Wikipedia
Rent from Netflix
Available from Amazon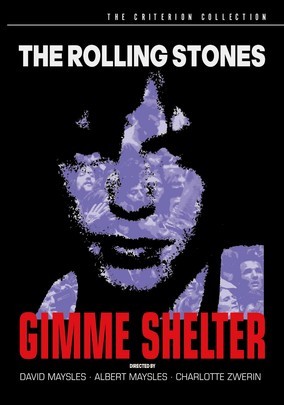 Woodstock gone bad. With poor planning, this free Rolling Stones concert in 1969 spun out of control. Given the rampant drug highs, a quarter million kids, the presence of the Hells Angles as guards, and the Rolling Stones own "Sympathy for the Devil," it is amazing that only one person was murdered in the chaos. This classic documentary offers two things: footage of the young Rolling Stones in concert at their peak, and a lesson of the underbelly of self-organization – when anarchy takes over.
— KK
The Rolling Stones: Gimme Shelter
Directed by David Maysles, Albert Maysles, Charlotte Zwerin
1970, 91 min.
$3, Amazon Instant Video rental
Read more about the film at Wikipedia
Rent from Netflix
Available from Amazon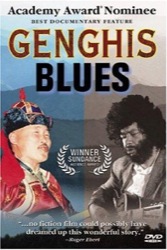 What a wonderful adventure. A blind Cape Verdean-American blues singer hears some strange music on a shortwave radio, and tracks it down as Tuvan throatsinging. It sounds like a whistle and a groan at the same time, and most people can't believe it comes from one human mouth. Our hero, Paul Pena, not only re-discovers how to do on his own while sitting in his home, he also learns Tuvan language by translating English to Russian to Tuvan in Braille! He then winds up getting invited to perform in the first Tuvan throatsinging contest since such contests were allowed after the breakup of the Soviet Union. (Tuva, near Mongolia, is a small autonomous republic within the Russian Federation.) The film starts here as it follows this blind man into the heart of Mongolia to try to win a horse by groaning two notes at once while singing the Tuvan national anthem. It's a wild and strange trip.
— KK
Genghis Blues
1999, 88 min
By Roko Belic
$3, Amazon Instant Video rental
Read more about the film at Wikipedia
Rent from Netflix
Available from Amazon
Back to Top