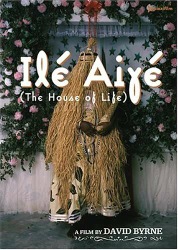 An arty documentary made by musician David Byrne about a personal fascination of his, Candomble, an African cult practiced in urban Brazil. There's little narration, but much music, multiple windows on the screen, and lots of dancing. Think of it as visual anthropology about a vodoo-like spiritual practice which blossoms in Brazil and is now an indigenous religion. For example, there are 7,000 followers of the Sons of Gandhi, a bizarre amalgamation of Gandhi pacificism, Sikh costume, voodoo, Brazil machismo, and Carnival band. The film provides an impressionist view of their exotic celebrations, heavy with music. You have the option of hearing David Byrne's commentary on one track, and this is by far the best way to view the film. His narrative is quirky, personal, informative, and essential, and really should be the default mode of this film. It is one artist interpreting and introducing a new folk art.
— KK
Lle Aiye (The House of Life)
Directed by David Byrne
2004, 51 min.
$49, DVD
Rent from Netflix
Available from Amazon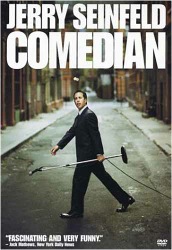 A fantastic look at the unfunny business of learning to be funny. Every artist battles the fear of failing. The more successful an artist becomes, the more they fear. Whether you are writer, filmmaker, musician, painter, dancer, comedian — it never gets easier to create the next great thing. This paradox of success is made apparent in this documentary about the struggling comedian Jerry Seinfeld. After he leaves his eponymous mega-hit show, he returns to stand-up comedy as naked and anxious as a 20-year old first-timer. We follow him as he squirms, storms, and retreats while crafting a new routine, battles against getting bored, missing his timing, and being off. And yes, he harbors genuine doubts. As in anything else worthwhile, behind the apparent final ease is a journey of nerve-wrecking hard work — wisely captured in this apparently easy film. There's some good laughs, too. I recommend this highly to anyone engaged in creative pursuits.
— KK
Comedian
2002, 82 min.
Starring Jerry Seinfeld
$10, DVD
Read more about the film at Wikipedia
Rent from Netflix
Available from Amazon
Back to Top