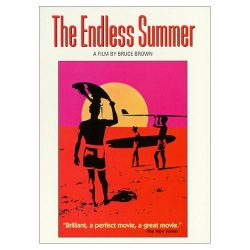 The granddaddy of all road trip films and extreme sports extravaganzas (those millions of surf, ski, motorcycle chronicles) is still charming 50 years after it was made. A few moments of cultural insensitivity now makes us cringe, but the constant good humor and pure adventure overwhelm any doubts. You go with the flow. More than any other surfing film since, the boundless sunny innocence of this classic makes you want to get a board to hit the waves, and see the world.
— KK
The Endless Summer
Directed by Bruce Brown
1966, 92 min.
DVD, $13
Watch the full movie on Youtube.
Read more about the film at Wikipedia
Rent from Netflix
Available from Amazon
Back to Top