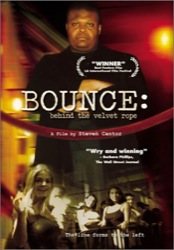 Who are these guys, the beefy ones standing at the gates of nightclubs and discos deciding who gets in? Are they as beautiful as the beautiful people they control? I never tire of seeing what really happens behind the scenes, or of hearing about what really goes into other peoples occupations, and with this documentary I now know more about bouncers than I thought possible. For a bit of drama, there's an opening at a hot club, so we follow a few wannabees who hope to get the job. I was rooting for the meek giant who lived with his mom. It's a satisfying journey into a world you often cross but never see.
— KK
Bounce: Behind the Velvet Ropes
Director: Steven Cantor
2000, 71 min.
Rent from Netflix
Available from Amazon
Back to Top