Explaining Science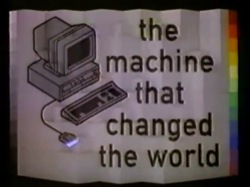 That would be the computer. This five-part series is a very entertaining history of the computer, what we expected from it, and how it came to be. The series stops before the internet, before the computer's greatest influence, so one might say it's is an incomplete history, but very good nonetheless. Appropriately the documentary is only available online.
— KK
The Machine That Changed The World
WGBH Television and BBC
1992,
Available at Viddler
Part 1: Great Brains
Part 2: Inventing the Future
Part 3: The Paperback Computer
Part 4: The Thinking Machine
Part 5: The World at Your Fingertips
Also available as a single BitTorrent file from Waxy.org
Read more about the film at Wikipedia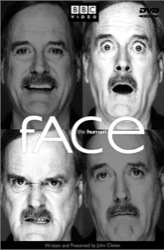 The most common, most potent, and most universal symbol is the Human Face. There's much that science can report about dissecting this image, but no one will ever say it in the same witty, intelligent and silly way as John Cleese and his Monty Python friends. You get Einstein, Freud, and fart jokes. This series is all you hope a BBC mini-series would be: educational and entertaining, shifting the way you see things, including your own face. Five stars.
— KK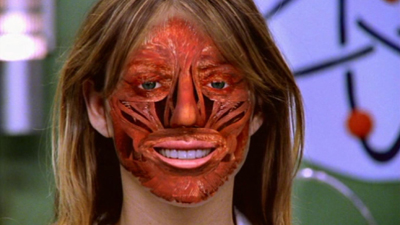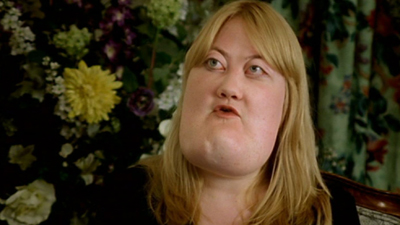 The Human Face
With John Cleese
2001, 195 min.
DVD, 2-discs, $40
Read more about the film at Wikipedia
Rent from Netflix
Available from Amazon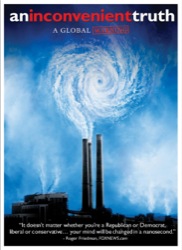 Much to my surprise, Al Gore makes a very compelling host for his short course on climate change. With simple graphics, clear evidence, and well-honed examples, he gives the speech of his life. And it works. His argument is aimed at an intelligent lay person, and I believe it succeeds in making a conservative, non-hysterical case for the reality of global climate change, and why it is important to us. He then suggests possible responses, which are less inarguable, but still pretty convincing. Almost everyone who has seen this film – even those who don't agree with his conclusions — has been impressed with Gore's presenting skills and engaging personality. It's not the Al Gore we saw as Vice President on TV. Part of the difference may be due to Gore's personal journey in this mission. Turns out he has been researching climate change since college, long before it was remotely fashionable, or even scientifically accepted. He weaves his history on the subject (including his high-profile loss in 2000) into his remarkable slide show. I've seen a lot of PowerPoint presentations in my life, and his use of this new medium (using Apple's Keynote) is the coolest I've seen. It probably helps that he's delivered this slide show thousands of times before. Here it is amplified, expanded, and made even slicker with this film recording. It is far less "political" and far more persuasive than I expected.
— KK
An Inconvenient Truth
Directed by Davis Guggenheim
2006, 96 min.
$3, Amazon Instant Video rental
Read more about the film at Wikipedia
Rent from Netflix
Available from Amazon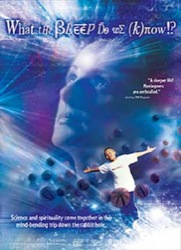 This is a wonderfully peculiar combination of a PBS science program meets new age self-help video. That's right, a part how-to, part drama, part talking head special spiced with interviews with real philosophers, delivering practical advice on how to deal with this bombshell: that the reality of atoms is something we construct in our heads. This movie is shot straight and sincere but I can't remember a film more trippy. It's an odd kinda-documentary. In addition to very well-edited interviews with world class physicists and cosmologists, and classy NOVA-ish special effects, we get the meaning of things as channeled by the legendary psychic Rama — all the while weaving through a fictional story of a deaf photographer coming to terms with her handicap. Yep. Bizarre! Corny! Magical! Thought provoking! The bottom line of the film is the late-night thought that we're making reality up! It needs all kinds of strangeness to keep this argument going in daylight, but it is worth the ride.
— KK
What the Bleep Do We Know?
2004, 90 min.
Directed by Betsy Chasse and Mark Vicente
$18, DVD
Read more about the film at Wikipedia
Rent from Netflix
Available from Amazon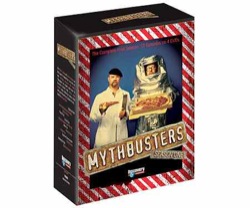 This super educational series from the Discovery channel is now on DVD. The two hosts, veteran Hollywood effects experts, test urban myths. You know, folklore such as: you get less wet if you walk, not run, in rain. Or, you can kill someone with a bullet of ice that leaves no evidence. Or, a small hole in an airplane at altitude will rupture into a large one and suck everyone out. If it involves explosives, all the better — can a cell phone cause an explosion at a gas station? In each episode they build elaborate equipment to recreate the conditions of the myth in order to determine if the myth is remotely possible. Sometimes the apparatus is formidable. They bought a steel ship to test whether sinking it would suck you down if you were swimming nearby (a la Titanic). Their comprehensive recreation of the myth that a penny dropped from the Empire State Building will kill you is brilliant and probably the final word on the subject. The cool part is the techie way they approach the problems: make stuff yourself. As in the series Junkyard Wars, you learn a lot by watching tinkerers quickly build things that really work. But here, they are not just engineering. They are actually doing an entertaining kind of science experiment, with controls, measurements, and results. Once the defined experiment is completed they push it to the limit. In other words their approach to investigating an urban legend is this: first they test the conditions as stated in the myth, and then if that does not work, they try to recreate the results of the urban legend. For instance, if they can't get an ordinary cell phone to ignite overflowing gasoline at a gas station (and they couldn't), they'll keep modifying the phone, gas supply, voltage, whatever it takes until they can get results — a spark from something like a phone that blows the station up. Cool! My entire family, including teenage girls, watches these with glee, and more than once, since there's a lot going on. And as a bonus, you wind up with a fairly good grasp of which urban legends have any veracity. Now on the third season, they cover three myths per episode.
— KK
MythBusters: Season One
13 episodes, 11 hours
$2 per episode, Amazon Instant Video
Read more about the film at Wikipedia
Rent from Netflix
Available from Amazon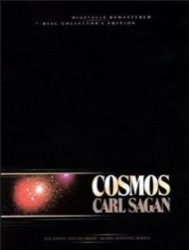 Although it is now 25 years old, Carl Sagan's Cosmos still warrants viewing. I watched it again recently and it captured me. I've found no better orientation to the visible heavens and our small place in the universe than this 13-part series, now conveniently housed in one boxed DVD set. Most of the science is still valid, and Sagan's explanations and astronomical insights have yet to be exceeded for clarity and wit. When a student begins to wonder "where are we?" and asks other big questions, these are the discs to slide into the player.
— KK
Cosmos
Directed by Adrian Malone, With Carl Sagan
1980, 780 min
$64, DVD (7 discs)
Read more about the film at Wikipedia
Rent from Netflix
Available from Amazon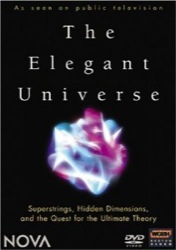 A crash course in string theory — the possible theory of everything. Fast-paced, crammed with high-street graphics and the best visualizations money can buy, this four-part Nova series does a fantastic job of making sense of something which inherently doesn't make sense — as everyone in this show will tell you. Great pains are taken to keep things as simple as the honor of physicists will allow, and the host Brian Greene, physicist and author of the book of the same title, offers state-of-the-art explanations for weird ideas. I learned a whole lot. It's the best science teaching format yet.
— KK
The Elegant Universe (Nova)
Joseph McMaster, Julia Cort
2003, 180 min
$13, DVD
Read more about the film at Wikipedia
Rent from Netflix
Available from Amazon
Back to Top