Living history / reality survivors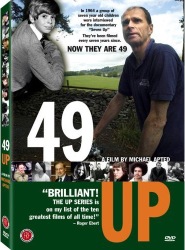 In 1963 the BBC filmed a set of 7-year school children and asked them what they thought their future would be. Because some of the kids were rich and some were poor, their aspirations revealed the traditional British class divide. But every 7 years since, the director has gone back and re-interviewed them, and their story has gotten far more interesting. The twists and turns of each life have been surprisingly unpredictable. With its longitudinal reach of 50 years (!), this is one of the coolest and deepest reality shows ever made. Now the kids are 49. In their latest episode the director tries to balance an inherent tension. The film can't assume anyone has seen the earlier versions (see my review here), and so it must recap the previous films, but now that the subjects' lives are so long, a recap won't leave much time for the new years. 49Up tackles this dilemma by re-interpreting each life in view of their latest 7 years, and so if you have been following along, it feels completely fresh. If you have not been part of the journey so far, this quick life-long portrait will pull you in, and you may want to see the earlier films. If you have been watching, these will be old friends. The subjects are now into their 50s and I found myself dying to know what happens next – in 56 Up.
— KK
49 Up
Directed by Michael Apted
2005, 134 min.
$22, DVD
Read more about the film at Wikipedia
Rent from Netflix
Available from Amazon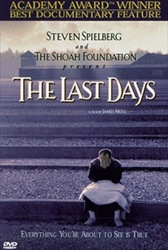 The gruesome truth about the Holocaust is that it was very cinematic. There must be hundreds of documentaries about this lowest point in human affairs. Examining that evil, this is one of the best views. It encapsulates the entire horror by following five survivors from Hungary in the last year (the last days) of the "final solution." Because of the desperation of the Nazis in their final months, these Hungarian camps were the most horrendous. The survivors tell their personal stories while they return to their Hungarian hometowns and death camps 50 years later. It's the factual counterpart to Schindler's List, all the more dramatic because this documentary was produced by Steven Spielberg.
— KK
The Last Days
Directed by James Moll
1998, 87 min.
$16, DVD
Read more about the film at Wikipedia
Rent from Netflix
Available from Amazon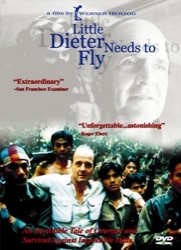 Few lives are as dramatic as Dieter's. Born dirt poor in Germany, he was starved to eating wallpaper during the bombing of his village in WWII, endured beatings as an apprentice blacksmith, arrived penniless in America in the hopes of being a pilot, peeled potatoes for two years in the Air Force, enrolled in the Navy, got to fly in Vietnam, was shot down in Loas, endured torture and starvation in Vietnam, and escaped in a series of unbelievable adventures to return to the US as a Purple Hearted hero. This documentary by Werner Herzog retraces Dieter's life, including a journey back to Loas, where Dieter re-enacts his capture, and months of torture in a mountain prisoner of war camp. Naturally Dieter is quite a character, and his charisma is evident in this excellent portrait of an unusually observant and hardened survivor.
— KK
Little Dieter Needs to Fly
Directed by Werner Herzog
2002, 74 min.
$10, DVD
Read more about the film at Wikipedia
Rent from Netflix
Available from Amazon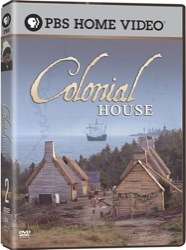 The premise is familiar now. Send a modern family into the past and make them live with only the tools and resources available centuries ago. In this case, the modern Americans are sent to live in the summer of 1628, on a forested island off of Maine. Their task: build a new world colony (20 people strong) that can both survive and pay back its investors in England. Life is pretty grungy. Two families to a room; no outhouses. This is the third in a series of living history documentaries (see 1900 House and Frontier House) – only now they have fewer tools. Of the three programs this is the best, in part because of the reality show-like drama and bickering between the colonists. Cameras record every detail as the pudgy newcomers scrounge for food, learn how to farm Indian corn, all the while slowly starving, and assuming appropriate roles such as indentured servants with astounding ease. Who knew how easy devolution was? Like the hit TV series Survivor, it's about how primeval people get when survival is at stake. But unlike Survivor, there's historical logic, authentic rituals, and significant meaning in their test. My kids, both young and teenage, are addicted to these series. If I had to choose one, I'd start with this one, the 8-hour Colonial House.
— KK
Colonial House
Director: Nick Brown
2004, 8 episodes
$26, DVD
Read more about the film at Wikipedia
Rent from Netflix
Available from Amazon
The premise of this first reality-TV program is brilliant. Take an ordinary middle class family of the year 2000 and make them live for 6 months like an ordinary middle class family of the year 1900. The London-based producers succeed in this transformation by getting every detail of Victorian domestic life exactly right and complete. The volunteer family is plunked down in a different era as if by time machine, and there is no escape. No shampoo, either. The edited 6-hour result is deep, instructive, and totally riveting, Kids who hate history are mesmerized by it. Because it is so visual and visceral, it changed the discussion of chores and gender roles in our household. Better than 100 essays, this video series reveals the notion of progress. It is now my favorite history "book."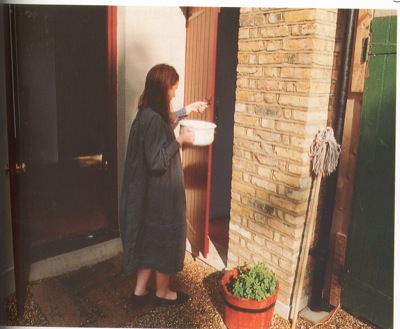 The success of 1900 House spawned Frontier House, a parallel experiment that transfers the conceit to the edge of Montana in 1893 during homesteading days. It ups the challenge by requiring the participants to build their homesteads and raise all their own food while sticking to period tools and the lifestyle of pioneers. The three families who settle in a beautiful valley need to stockpile enough food, shelter and firewood to last a Montanan winter. Instead of cooperating, they compete against each other, making this remarkable 6 hours series into what Survivor should have been – an authentic test of surviving. There is probably no greater persuader of women's inequality than this pair of films. The guys loved being pioneers, while the women and girls were imprisoned by it.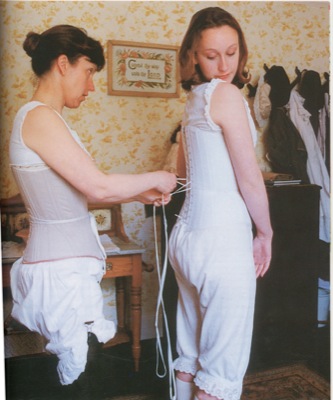 Both series come with books you can forget. The documentaries on the other hand are memorable and entertaining works that would be fantastic in any classroom, and ones that I would require every child in 21st century America to view. If I had to choose only one to see, I'd go with Frontier House. There's more going on, more intra-personal weirdness, more learning and more failures. Best would be witnessing both, as the London Victorian house closer reflects what the majority back then experienced. These are the nearest things yet to a time machine.
— KK
1900 House
Directed by Jonathan Barker, Caroline Ross-Pirie
1999, 220 min.
$52, DVD (used)
Available from Amazon
Rent from Netflix
More information from Wikipedia
Frontier House
Directed by Maro Chermayeff
2002, 360 min.
$25, DVD
Available from Amazon
Rent from Netflix
More information from Wikipedia
Back to Top