Wonders of the living world
This is an amazing film. What would happen if you raised a chimp as a human in an ordinary home and taught it sign language from infancy? Would it learn language? A professor and his hippie girlfriends tried this experiment during the 1970s with a chimp named Nim. Everyone of the dozen of humans who raised and cared for the chimp, bonded and communicated with Nim as if he were human. Nim was raised by a free-love mother who never disciplined him. When he got too strong to handle he was sent off to an animal farm where a long-haired hippy befriended him, and hung out everyday with him for years; he and Nim often smoked joints together. The farm ran into financial difficulties so, despite the outrage of his human family, Nim the "talking" chimp was sold to a research center where he was the subject of "medical experiments." Finally he was rescued. Amazingly, Nim was filmed for much of his life so the director was able to put together this fantastic visual biography. Woven together with interviews from all the principle characters in Nim's life we get an intimate record of this grand but misguided adventure. A hundred questions are raised by the experiment and many are answered by this superbly crafted film. I recommend it highly.
— KK
Project Nim
James Marsh
2011, 93 minutes
DVD, $9
Read more about the film at Wikipedia
Rent from Netflix
Available from Amazon
No narration, little dialog, much filming, all babies. Babies without a script. The camera focuses on four babies from four distinct regions of the world: Mongolia, Namibia, Japan and California. Quietly we watch them develop awareness, see them solicit reactions from their parents and siblings, and begin to impress the world with their wills. Each in their own habitat — as if this were a nature documentary, which it is. The baby of Mongolia shares the bath with a goat; the baby of Namibia eats dirt; the baby in California surveys an over-engineered environment. But as marvelous as these differences are, this wordless wildlife documentary shows that their commonality is even greater. We recognize the overwhelming babiness, or humanness, in each kid. Watching kids be themselves is so much more fun than watching TV, and here we have TV that is just watching kids be themselves. This film is a recursive nirvana!
— KK
Babies
Thomas Balmes
2010, 78 minutes
DVD, $8
Read more about the film at Wikipedia
Rent from Netflix
Available from Amazon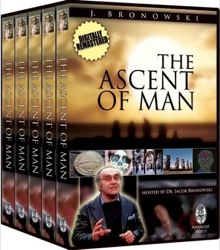 Filmed in 1973, this 13-part BBC production made great waves when it was broadcast in America. It was one of the first hits on public television, and made PBS cool. Written by the mathematician Jacob Bronowski, it's billed as a personal history of humanity. Filmed on location around the world, the series is a rousing, philosophical celebration of science, invention and art. I thought that it might not have the same gravitas it had 40 years ago, but the newly restored DVD version keeps its power. Bronowski is deeply optimistic, surprisingly contemporary, and very sympathetic to the current ideas of emergence and self-organized systems. His account could have been written yesterday. The thing that struck me most about his ode to humanity was Bronowski's precise, pithy, almost poetic style. He's a fabulous presenter, a remarkable person, and while watching him you think, yes, if he is an example of what humans are, then they have indeed ascended. I learned a whole lot from this poem, and recommend it as one of the best short histories of humans written so far.
— KK
The Ascent of Man
Jacob Bronowski, Mick Jackson and Adrian Malone
1972, 676 min
$72, DVD (5-disc set)
Read more about the film at Wikipedia
Rent from Netflix
Available from Amazon
Book also on Amazon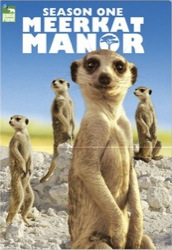 This is a reality TV program about meerkats. It is totally engrossing. There is more melodrama packed into one day of this large family of mongoose relatives living in the Kalahari Desert than you'll find on most human shows in a month. Every 24 hours some disaster befalls this clan, and 24-hour cameras record everything. A brave son suffers a lethal snake bite, then stupid teenage baby-sitters go off to play and forget the baby who dies in the heat, a psycho uncle puts the colony in danger, a sad betrayal by a brother-in-law, a rebellious daughter gets pregnant via a male from the enemy clan, a powerful mother plans infanticide, and nasty one-eyed leader from a rival tribe tries to take over — all that is just the first week!
This long running series has become a huge international hit. There are tons of online forums, discussion boards and YouTube clips interpreting the complicated relationships of these cuddly mammals. The small size of the meerkats speeds up the cycle of their lives, and their open desert home makes filming easy. Plus they stand on two feet — instant film stars! In addition meerkats are weirdly social animals (the dominant female prevents other females from having families) which makes the saga of their intertwining lives endlessly fascinating.
With 52 episodes now filmed, the series is quite addictive. Unscripted, the shows are constantly surprising. You can never guess what will happen next on this super-charged reality show. Will the wayward daughter live or die? Will her mom kill her children in anger? Will the hated brother break up the clan? Meerkat Manor provides the same gossip-fodder as a human soap opera, except it's far more extreme in its plot turns. It's a soap opera on steroids.
Best of all Meerkat Manor is a supreme piece of natural history — the cameras and longitudinal study is based the Oxford-sponsored Kalahari Meerkat Project's 10-year observation of these colonies. This series is an intense short course in mammal behavior. Hard not to get hooked.
— KK
Meerkat Manor: Season 1
Oxford Scientific Films
2006, 280 min.
DVD (2 discs), $13
Read more about the film at Wikipedia
Rent from Netflix
Available from Amazon
Website of the US presenters, including discussion boards Friends of Kalahari Meerkat Project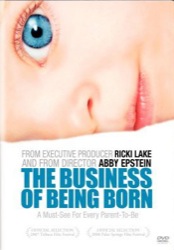 Anyone approaching birth should watch this film about modern midwifery. There was a lot of talk about natural birthing and midwifery 30 years ago, but the buzz about those traditional "alternatives" vanished, while the medicalization of birth has accelerated to extreme heights. Some areas of the country have 45% ceaserean rates. This film does a great job illuminating how early choices (like inducement) rapidly funnel one's later options into surgery. The complicated figures, jargon, and options are explored by following the film maker as she makes some very hard choices in her own pregnancy. You get to see several natural births play out in cinematic detail; they are stunning. Not what you expect. This documentary is a potential mind-changer.
— KK
The Business of Being Born
Abby Epstein
2007, 84 min.
$2, Amazon Instant Video rental
Read more about the film at Wikipedia
Rent from Netflix
Available from Amazon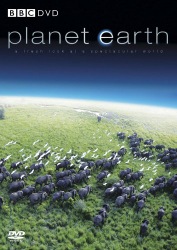 This series should be required viewing by all inhabitants of Earth. Nearly every shot in this extravaganza 11-part BBC documentary is new, dazzling, and jaw-dropping wonderful. "Is that really on this planet?" you ask yourself. "How come we've lived here so long and no one ever showed us that before?" Because they didn't have 4 years and 25 million dollars. This fortune was well spent on ingenious high tech cameras (slow motion, night seeing, telescopic, high definition) placed in the hands of photographers of infinite patience who provide a view of this earth that will both warm you up and wise you up. As a celebration of where we live, this true film won't be outdone soon, if ever. And it is not just me who's gaga for it. This is the first item I've encountered on Amazon that had an almost unanimous 5-star rating for 280 reviews.
You have a choice of formats for the DVD. You can get it in regular display mode, or in true high definition TV mode. (If you've been waiting for something to warrant purchasing a hi-def TV, here it is.) You can also get it with American narration (Sigourney Weaver), or in the classic David Attenborough British version. I recommend the Attenborough narration for his discernible passion. The Amazon and Netflix links below take you to the Attenborough narration on ordinary DVDs.
— KK
Planet Earth
David Attenborough
2007, 550 min.
$2 per episode, Amazon Instant Video rental
Read more about the film at Wikipedia
Rent from Netflix
Available from Amazon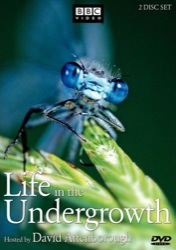 Amazing! Astounding! Utterly cool. Hi-tech photography makes this the best David Attenborough nature series ever. The subject is earth's invertebrates, or in other words, the creepy crawly things that fill the woods, bushes and undergrowth. Insects, spiders and their kin. The diversity of these beings is vast, and their bizarre stories untold. Attenborough and the BBC spend a lot of money and time traipsing around the world using really cool infrared cameras to see at night, or pinhole cameras to see up close, or ultra-fast cameras to catch wings flapping. The view they capture of these unnoticed critters is absolutely stunning. They invert the usual view of bugs by filming them from their level or below. It turns out that when you can place your camera so that you literally look up to an ant while seeing it in its environment, then you look up to it with new respect. The bugs seem more like the animals they really are. When all their hairs, scales, and whiskers are visible, their true animal nature can be seen. As usual Attenborough's very biological organization of what you see and his crisp insights make this journey unforgettable and an instant classic. I've seen it twice already.
— KK
Life in the Undergrowth
By David Attenborough
2005, 250 min.
$2 per episode, Amazon Instant Video rental
Read more about the film at Wikipedia
Rent from Netflix
Available from Amazon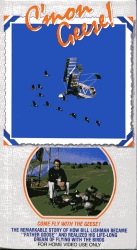 A maverick sculptor imprints baby goslings to follow his homemade ultra-light airplane as if it were their mother, and in so doing he gets the flock of geese to fly alongside him, where he can film them. Hollywood turned this true story into the family movie Fly Away, and the great documentary Winged Migration borrowed the same technique for other wild birds. But this is the original low-rent documentary made by the Canadian artist himself, wherein he films his journey of invention, with its many dead-ends, failures and ingenious solutions. You get the raw energy and details of an artist at work. It's an engaging tale, a brilliant achievement, and a marvelous act of imagination.
— KK
C'mon Geese
Directed by Bill Lishman
1989, 28 min.
$15, VHS
Available from Operation Migration, a non-profit organization co-founded by Bill Lishman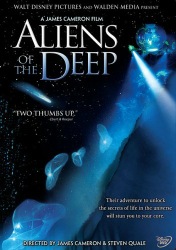 Who knew that James Cameron, the director of the Alien films and Titanic, was a hopeless science nerd and submarine groupie? Cameron uses his extensive resources to hire four cute mini-submersibles, staffs them with good looking astronauts and exobiologists, and then sets off to explore the bottom of the ocean as if it were another planet. And it is! There is a weird world down there, entirely separate from the solar powered ecosystems on the rest of the planet. In the oceanic deep, this alien world is chemically- and heat-powered, which makes for very bizarre creatures, seen up close and personal. Cameron makes the controversial case that archaic life may have begun in this non-solar environment first and then later migrated to the lighted world. The drama of surviving bone-crushing deep dives is just a rehearsal for future expeditions to the other moons in our solar system that may have water and underwater alien life. The science is well done, very engaging, and very imaginative. It's done with such impeccable Hollywood filmwork that it feels like a science fiction film. Be sure to watch the extended, and not the short IMAX, version.
— KK
Aliens of the Deep
Directed by James Cameron
2005, 47 min.
$3, Amazon Instant Video rental
Read more about the film at Wikipedia
Rent from Netflix
Available from Amazon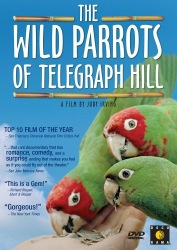 An articulate and overeducated man, but a drifter and nearly homeless, finally finds his calling in life: to feed and befriend a flock of escaped parrots on a high-priced hill in San Francisco. Like Francis of Asisi, he gently delves so deeply into the lives of these exotic birds that he can identify them individually, and over time follows their saga through generations as they multiply and take over the neighborhood. Through him you get to watch a parrot soap opera — who died, who's with whom, she said, he said. It's a wonderful natural history mystery, and as therapy, the parrots seem to liberate our saint from his stagnation. Enlivened by this wild bunch, he steps out and becomes an expert — on parrots. In short, a man is tamed by wild parrots; and the parrots become as interesting as people.
— KK
The Wild Parrots of Telegraph Hill
Directed by Judy Irving
2005, 83 min.
$3, Amazon Instant Video rental
Read more about the film at Wikipedia
Rent from Netflix
Available from Amazon
Back to Top