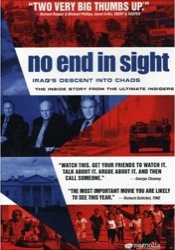 It's hard to be neutral about a war, any war, or even war itself. This is the most neutral inspection of the Iraq war to date. Perhaps because of this neutral perspective, the effect of this documentary is all the more shocking and maddening. It sets aside the controversial reasons for going to war in Iraq and focuses on what happened once it began. This is no Michael Moore prankster rant. It is a non-partisan recounting of the facts by the principle players themselves of what happened. We are talking generals, secretaries of state, ambassadors. Mincing no words they tell how the Iraq war became an ill-planned descent into a generational disaster. One interview after another with key administration and military leaders confirm the colossal scale of this misadventure. The degree of self-admitted incompetence, waste, and hubris among the war planners is simply mind-boggling. Some claim this three-trillion dollar debacle is the worst planned war in the last 100 years. Sadly, as this film makes very clear, there is no happy ending in sight.
— KK
No End In Sight
Charles Ferguson
2007, 102 min.
$3, Amazon Instant Video rental
Read more about the film at Wikipedia
Rent from Netflix
Available from Amazon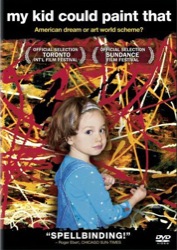 The focus of this documentary is a four-year-old girl who likes to paint large pictures. Attractive colorful paintings. She is discovered by a local artist and art dealer. He stages a show of her work. Now her story makes the national news and she picks up a number of wealthy patrons who want to buy her paintings at $20,000 a piece. She is only 4!
A hundred questions burst forth. Would experts be able to discern whether these canvases were paintings made by an admired artist or just pictures that "your kid could paint"? Does it matter who paints a painting? Would it matter if her father gave her suggestions? Is it all a scam? Is modern art itself a scam?
After planting a hidden camera in her painting room, PBS's Charlie Rose decided the young artist must have had help, but time-coded film made by her parents suggested she did not. The documentary weaves all the bigger questions of what is modern art anyway, with the more intimate question of whether the little girl has a special talent, and if she does, what should her parents do or not do about it? The girl is so young she can't articulate what she does, nor why, and in fact is bored by the whole subject.
For what it's worth I came away with the notion that this girl does have special talents — not in seeing or painting abilities, which I think she shares with most open-eyed children — but in her confidence and willingness to follow through and keep painting. A good doc for artists and art students.
— KK
My Kid Could Paint That
Amir Bar-Lev
2007, 83 min.
DVD, $20
Read more about the film at Wikipedia
Rent from Netflix
Available from Amazon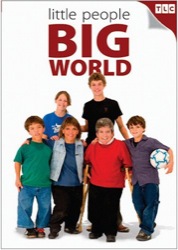 A mixed family of dwarfs and tall folks stars in this reality program. The father and mother are both dwarfs, their daughter and one young son are not. They also have teenage twins; one is a dwarf and one is not. Two layers keep this multi-year show captivating. One is the how-do-they-manage curiosity about being a little person in a big world. How do they drive, work, date? The other attraction is the drama of the usual parent-child, husband-wife, and sibling relationships, but all raised up a notch by the stress of dwarfism. Emergency surgery, near-death accidents, and even arrests by cops keep it lively. The father is an ambitious, creative, hard-driving, bigger-than-life little guy, and his family struggles to keep up, or get out of his way. In the third season the father was cited, but acquitted after trial, for a DUI charge. Even his own father (normal height) can find his dwarf son's bossiness exacerbating. At one point grandfather tells the crew, "I've had it up to here with these dwarfs." It's that kind of candid honesty that is both entertaining and educationally compelling. Their dwarfism is neither romanticized nor overtly exploited, but is portrayed realistically. The series also benefits from its uncommon longitudinal stretch of 3 years, so you can watch characters mature and evolve. Because this unusual family is fundamentally likable, yet keeps overcoming obstacles both self-made and circumstantial, it's a joy to watch them march forward.
— KK
Little People, Big World
(Season 1)
The Learning Channel
2006, 440 minutes
DVD (3-disc), $20
Read more about the film at Wikipedia
Rent from Netflix
Available from Amazon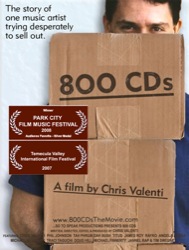 Part documentary and part how-to. A struggling musician uses his PC to produce his own album and winds up with a stack of 800 CDs in his apartment. Now what? How does he get anyone to buy them? He turns his camcorder on, and records his journey into music promotion and small time marketing. He tries flyers, bar gigs, street corner handouts. Eventually he goes to a seminar for indie music promotion, and for the rest of the documentary he records the results of following what he learns at the seminar. It's a good crash course in Music Marketing 101, perfect for any indie band. You really should hear what works. I think there are enough general purpose lessons that any artist should watch this and learn. There's no formula. The film's seminar leader can't repeat too many times: it's all about tapping into the inner authentic you, doing things in a way that is appropriate for you and your creations. Following this injunction, the musician-filmmaker does sell out his 800 CDs by the end of the film. Now he has a stack of 800 DVDs of this indie film to unload, but he knows how to do that. For example, he got one to me.
— KK
800 CDs
Chris Valenti,
2007, 84 min.
DVD, $30
Available from the Chris Valenti's website
Back to Top