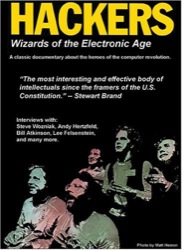 In this short film "hackers" is used in its original MIT meaning for someone who comes up with an ingenious or daring "hack" or invention, shortcut, or prank. Not coincidentally, some of the hackers here are legends in the digital era: Steve Wozniak, Ted Nelson, Andy Hertzfeld. This records the first time three generations of hackers meet each other. They gather in a camp to relive old exploits, show off recent hacks and plot the future. I was involved in organizing the event in 1984 and appear briefly in the part about the first multiple player game.
— KK
Hackers: Wizards of the Electronic Age
Directed by Fabrice Florin
1986, 26 min.
$30, DVD
Watch the whole thing on YouTube.
Read more about the film at Wikipedia
Available from Amazon
Back to Top