Visual anthropology
Master documentarian Herzog invites you to join his rhapsody as he examines very recently discovered 30,000-year-old cave paintings — the most intact and pristine old paintings we know about. This film will move you back in time while he connects you with the neolithic painters who worked their art. Despite the vast time shift, and the geographic relocation, and the inaccessibility of the cave, you will feel, as Herzog intends, that these were painted by your uncle just last week. They will make sense and you'll feel you made a journey. (The original was filmed in 3D which may be worth seeking out.)
— KK
Cave of Forgotten Dreams
Werner Herzog
2010, 90 minutes
$3, Amazon Instant Video rental
Read more about the film at Wikipedia
Rent from Netflix
Available from Amazon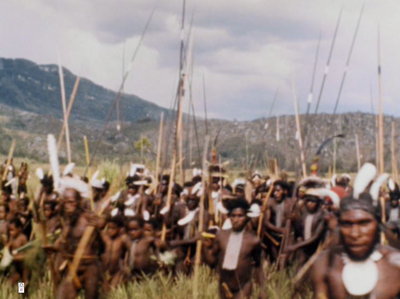 I've been trying to see this legendary film for years. It captures ritual warfare between tribes of farmers in Papua New Guinea. The war is played out on a weekly basis, and could almost be called sport except the warriors usually kill one person a week. Filmed in an ancient agricultural society, yet one that lacked contact with the rest of the world, it could have been shot 3,000 years ago. Visually stunning, almost poetic rather than anthropological, this record presents a timeless tableaux of distant "otherness." Yet, as the film unrolls we see the familiar as well.
It was filmed in 1961 in the very remote highlands of the Dani civilization in the Grand Baliem Valley of Papua New Guinea. At that time this valley was the last place on earth not to be colonized by Europe. Here a group of remarkable young filmmakers documented a cultural expression so strange that it seems unbelievable now that it has disappeared. Hundreds of men from each tribe would line up in sides on a vast grassy field – so everyone could watch — to have weekly skirmishes using spears and arrows. It was true war in that no one in the villages was safe. If men could kill a woman or child who wandered too close to the border field, they would. On the other hand it was ritualistic; they would not fight if it was raining or cold. Each death of a tribe member had to be atoned by another death from the other side. But to stop the game of killing altogether was unthinkable.
This film records the daily life of sweet potatoes farming, weaving, pig raising, and hut building needed to support this sport of war, and the great art, labor, love and sacrifice it required. Its intent is to try to penetrate the weirdness of this arrangement. It records the deadly battles in clear intimacy. We see their amazing surgery on the wounded, the shocking amputations of innocent women relatives, the preparations for feasts and funerals, and the daily chore of climbing the high watchtowers to watch for enemies. There is clarity and fascination in the many details — all in color — of a Neolithic lifestyle and craft.
Because this film was created for the Harvard Peabody Museum, it has been locked up in a silly "educational" pricing scheme for decades. (The film team included folks like Peter Matheson and Michael Rockefeller, who later made their own solo careers as naturalist and anthropologist.) Occasionally shown in anthropology classes, a VHS tape version of Dead Birds used to cost $400. Just to rent it once cost $100. (Standard prices for educational documentaries.) Recently, the distributor has bowed to the realities of new technology and is offering a double-DVD set of the film and additional material for $70. That sale price is still steep, but there is a lot to see, including footage not included in the 84-minute film, and several versions of commentary. And the film has been beautifully digitally remastered, making it superior to any prints of the last 40 years.
This is a unforgettable document, a reminder of who we are. I consider it one of the greatest documentaries ever made.
— KK
Dead Birds
Directed by Robert Gardner
1964, 84 min.
$25, DVD (2 discs)
Distributed by and available from Documentary Educational Resources
Read more about the film at Wikipedia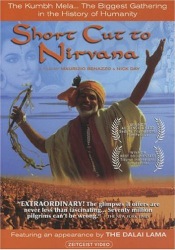 This film lacks a compelling narrative, but it's worth watching because it gives you a nice comfy seat to view the world's largest gathering of humans. The parade is totally wild. Every 12 years pilgrims in India congregate on the beach at the confluence of two holy rivers. This meeting is called the Kumbh Mela. Officials estimate up to 70 million people came to bathe at the last Kumbh Mela in 2001. 70 million is larger than 95% of the countries of the world. Among those millions of pilgrims are tens of thousands Sadhus, holy hobos, wandering saints, faith healers and naked misfits. Every guru in India and beyond sets up a camp and side-show tent. There's too much of everything. The event gets an instant infrastructure to accommodate the largest city on earth for only several weeks. There's dust, constant loudspeaker noise, weirdness everywhere, It's sort of like Burning Man, but enlarged 100,000 times. I attended the Kumbh Mela in 1977, before it was "popular," when a mere 14 million souls turned up. It's pretty gritty (imagine the sanitation problem) but also the cheapest way to visit another planet. This film captures a tiny bit of that alien weirdness. Hopefully this is not the last film to grapple with this incredible spectacle, but right now it's the only one I know of.
— KK
Short Cut to Nirvana
Directed by Maurizio Benazzo and Nick Day
2004, 85 min.
$3, Amazon Instant Video rental
Read more about the film at Wikipedia
Rent from Netflix
Available from Amazon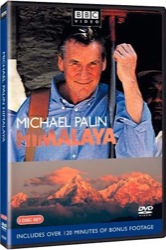 I love personal, quirky, off-beat travel, and Michael Palin, one of the original Monty Pythons, has his own eccentric travel down to an cinematic art. His BBC credentials give him access to odd little corners of the former British Empire, and so he takes us to many remote places across the breath of the Himalayas — one of the most exotic and peculiar regions in the world. I spent many years traveling in the Himalayas myself, yet Palin would turn up in places I had not even heard of. And of the places I did know, he got the spirit of the place just right. It doesn't hurt that spanning the Himmalays are several of the most interesting countries of the moment, including the essential and complex giants India and China, but also tiny Bhutan and Nepal, as well as hyper Pakistan and forgotten Bangladesh. Palin is very funny, extremely witty, and warmly intelligent about what he sees. He is the ideal travel companion, and in these 6 hours, he'll introduce you to the incredible diversity of culture hidden in the folds of this greatest range of mountains. I'd follow him anywhere.
— KK
Michael Palin: Himalaya
Directed by Roger Mills and John-Paul Davidson
2005, 352 min.
$12, DVD
Read more about the film at Wikipedia
Rent from Netflix
Available from Amazon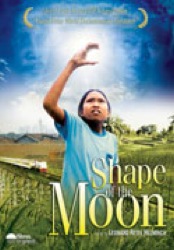 A magical work. This is perhaps the most authentic and non-cliched immersion into third world urbanity I've ever seen. Let's say you wanted to know what it would be like to live in a self-built squatter city. How do the residents make all of a life's arrangements work with so little? What do they dream about? This beautiful film perfectly captures the texture of a slum as home. No romance, no pity – only quirky complexity. You know how when you first visit a foreign place your eye focuses on small details that seem to embody the total essence of the place's strangeness? This film is like that. It's all attention, fascination and vibrancy. I can't recall a documentary more intimate; certainly no reality show comes close to a sense of 'being there' — especially when 'there' is an edge city in the middle of one of Earth's largest pools of human chaos. The cinematography is off-beat, original, and lyrical – almost poetry. The story is too odd to make up: The wayward son of a lone minority Christian widow converts to Islam to marry a girlfriend. Here's a glimpse of the mother and son's lives. It's about family, the slums, and Indonesia in transition. It also provides one of the keenest insights — far more revealing than you'll get by traveling as a tourist– into what Islam feels like in the street, where religion is culture and not belief. What a memorable trip!
— KK
Shape of the Moon
Directed by Leonard Retel Helmrich
2005, 92 min.
Read more about the film at Wikipedia
Rent from Netflix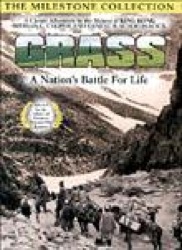 You think your job is tough? Try this one. In this very early documentary from 1925 — made in extremely harsh photographic conditions — two pioneering filmmakers (who went on to make King Kong) follow 50,000 Bakhtiari nomads as they set off on their annual hundred mile migration from the desert lowlands of Iraq over the snowy Zagros mountains into roadless pastures in Iran while driving 500,000 (!!) goats, sheep and horses. Instead of riding on the backs of donkeys, small children will haul ailing donkeys *on their backs* as they scale cliffs, cross glaciers barefoot, or ford immense white water rivers with goatskin floats. And then 6 months later they return to complete this unbelievable feat of endurance again. It's an eye-witness glimpse of a truly nomadic lifestyle which forms the archetypes of the Bible and the mid-east today, and of mind-boggling hardship. Like Nanook of the North, this rarely seen movie is the both the first and the last photographic capture of this distant world.
— KK
Grass: A Nation's Battle for Life
1925, 71 min.
Directed by Merian Cooper and Ernest B. Schoedsack
Read more about the film at Wikipedia
Rent from Netflix
Available from Amazon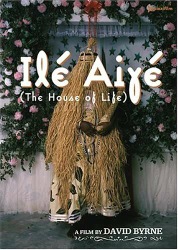 An arty documentary made by musician David Byrne about a personal fascination of his, Candomble, an African cult practiced in urban Brazil. There's little narration, but much music, multiple windows on the screen, and lots of dancing. Think of it as visual anthropology about a vodoo-like spiritual practice which blossoms in Brazil and is now an indigenous religion. For example, there are 7,000 followers of the Sons of Gandhi, a bizarre amalgamation of Gandhi pacificism, Sikh costume, voodoo, Brazil machismo, and Carnival band. The film provides an impressionist view of their exotic celebrations, heavy with music. You have the option of hearing David Byrne's commentary on one track, and this is by far the best way to view the film. His narrative is quirky, personal, informative, and essential, and really should be the default mode of this film. It is one artist interpreting and introducing a new folk art.
— KK
Lle Aiye (The House of Life)
Directed by David Byrne
2004, 51 min.
$49, DVD
Rent from Netflix
Available from Amazon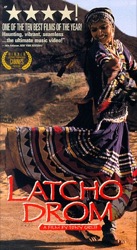 This one is very hard to explain. It's hypnotic. There is not a spoken word in it. The film is a feature-length ethnic MTV video. A continuous 103 minute song. Sung in the language of gypsies. Starts out in India, where nomads sing and dance in the magnificent Rajasthan desert, and then pass their music — without losing a beat — onto their roaming singing cousins in the mid-east and Egypt, and then onto their Roma relatives in Turkey and eventually into the heart of old Europe as gypsies. They sing about their predicament, their hopes and sorrows, and about the joy of life and freedom (all lyrics subtitled). They tell their history entirely in music. The most marvellous thing about this unusual film is the authenticity of the local singers, their incredible musical gifts, and their stunning locations and landscapes. Even though the superb audio and lighting required more than the usual documentary opportunistic make-do, you can't tell how staged the performances are, or if they are. One feels like a gypsy on foot who just happens to meet some cousins as they sing their hearts out. It works as ambient music video — stunning, mesmerizing scenes from some archetypical past. Except for the film Baraka, which this resembles because of its eerie lack of dialog, I can't think of anything like this operatic trance.
Latcho Drom
Directed by Tony Gatlif
1994, 103 min.
$16, DVD
Read more about the film at Wikipedia
Available from Amazon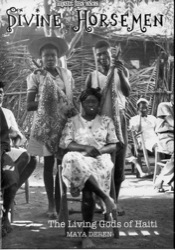 A 1950s capture of voodoo rituals in Haiti, created by Maya Deren, an experimental filmmaker. Because she was an initiate of voodoo, this film became an influential work of visual anthropology. It's value to me is in its rare portrayal of voodoo practice prior to becoming well known outside of Haiti.
— KK
Divine Horsemen: The Living Gods of Haiti
Directed by Maya Deren and Cherel Ito
1985, 52 min
$2, Amazon Instant Video rental
Read more about the film at Wikipedia
Rent from Netflix
Available from Amazon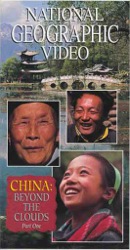 A million stories unfold in Lijiang, a picturesque historic town in the mountains of southwest China. This 4-hour tale follows four local families over several years as their lives twist, turn, deepen, intermingle, and blossom. Their openness is uncharacteristically candid for rural China; a tribute to veteran documentarian Phil Agland. The universal fears and dreams of a vast continent are condensed into a tightly edited few hours of subtitled witness. So intimate is this view of Chinese life that it is close to anthropology. Highly recommended.
— KK
China: Beyond the Clouds
Produced by National Geographic
1994, 115 min.
$30, DVD
Read more about the film at Wikipedia
Available from Amazon
Back to Top