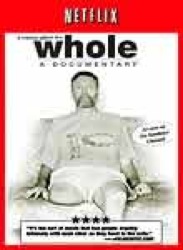 Whole is a long stare at a disturbing psychological abnormality wherein the afflicted feel an extreme need to amputate a perfectly good, working limb. From childhood the subjects in this film "knew" this limb was not really part of them, and removing its alien presence becomes an obsession. Some can map the alien border on the limb down to a millimeter. Most will get the part amputated one way or the other, or die doing it, and some do die. Those who succeed in amputation (often by deceit) feel happy and whole for the first time in their lives. It's a hard film to forget. There's no gore, but a lot of exposed psyches. This is far from a perfect documentary — too many questions are left unanswered — but it is powerful in its simplicity. It does what I always hope a documentary will do: move you to a place you have never been before. The place in this case is the idea that amputating a good limb is a good idea. It moved me several inches closer in understanding this bizarre compulsion.
— KK
Whole - Trailer from Frozen Feet Films on Vimeo.
Whole
Melody Gilbert
2007, 55 min.
DVD, $22
Read more about the film at Wikipedia
Rent from Netflix
Available from Amazon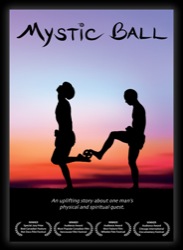 This lovely, lyrical documentary introduces Chinlone, a Burmese sport that soars somewhere between acrobatics, hackey sack, and Balinese dance. This game, unknown outside of Burma, became an obsession for Greg Hamilton. For the past 20 years he's painfully tried to whisk the distinctive woven-rattan ball, faithfully returning to Burma to play in tournaments, becoming the first westerner to do so. What makes this film so rewarding is Hamilton's candid autobiographical account of his slow learning. At first he is laughed at, but after 8 years of filming, he slowly gains respect from the Burmese. Chinlone is a beautiful non-competitive game. You "win" by keeping the ball in the air for your teammates — a fit metaphor for life, and a perfect frame for this extremely contemplative but dynamic film. Greg's story is really not about sport, or the Zen of Burmese Hackey Sack, but about how to learn and love.
— KK
Mystic Ball
Greg Hamilton
2006, 83 min.
DVD, $20
Rent from Netflix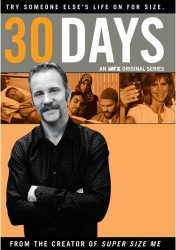 The star of the hit documentary Supersize Me took his winning format of Total Immersion For 30 Days and applied it, with the help of other willing subjects, to a number of other alien worlds. For 30 days your host in each episode of this reality series will live within agreed constraints in order to shift their — and your — point of view. Ideally the show throws a person into the lives of those they despise. Take a southern Christian and make him live in a Muslim home and community. Take an anti-immigration bully and have him live with illegal immigrants. Make an abortion rights activist work at a pregnancy crises center. Or an atheist live with Pentecostals. A guy who lost his job to outsourcing in India, goes to India to reclaim his job there. Have middle class professionals try to pay rent and doctor bills on minimum wage. Or an innocent live in jail, with solitary confinement. A lot can happen in 30 days, distilled into an intense 60 minutes. Yes, it's a gimmicky formula, but it really works. You'll learn a whole lot.
— KK
30 Days: Complete Series
Morgan Spurlock
2004, 354 min.
DVD (6-disc), $19
Read more about the film at Wikipedia
Rent from Netflix
Available from Amazon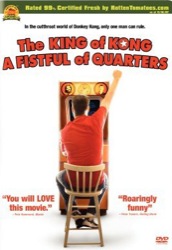 A documentary masterpiece. Contenders for the Donkey Kong video game world championship face off at a video arcade. This contest is transformed into a memorable drama by the presence of a villain. It is rare for documentaries to have villains, but this one does, and he wears black. The bad guy, a slimy conniving world-record holder and his corrupt minions, is matched up against a likable, genuine good guy nerdy hero. A righteous battle ensues over many months. I haven't found anyone who didn't thoroughly enjoy this visible confrontation between the forces of light and dark. One of my favorite documentaries of all time.
— KK
The King of Kong
Seth Gordon
2007, 79 minutes
$2, Amazon Instant Video rental
Read more about the film at Wikipedia
Rent from Netflix
Available from Amazon
Back to Top