Culture
This film is a useful and serious extended prank. An Indian-American kid from New Jersey returned from a guru quest in India convinced gurus were only ordinary people with the job title of "guru." The documentary begins when he decides to become a fake guru to prove that people only project guru-ness onto ordinary people like himself. He takes the name Kumare, adds a fantasy backstory, plus a made-up religion with made-up rituals and invented yoga moves. Over the span of four months he gathers a room-full of true believers in Arizona (filming the whole time), and teaches them that they "have a guru inside them" and that he is just an illusion. Much to his surprise he finds himself deeply bonding with his students who claim he is really helping them. He's a pretty good guru! This makes his final "unveiling" or confession to them all the more painful, riveting, and uncomfortable even for viewers. Unlike the prank movie Borat, this one has a point, and it is a complex, unexpected, and subtle point. Are the people who follow him really fools, is Kumare's deceit really noble, and will the now enlightened disciples be furious or forgiving? The true parable is spellbinding, funny, moving, and profound. A must-see.
— KK
Kumare
Vikram Gandhi
2012, 85 minutes
$3, Amazon Instant Video rental
Read more about the film at Wikipedia
Rent from Netflix
Available from Amazon
This is an amazing film. What would happen if you raised a chimp as a human in an ordinary home and taught it sign language from infancy? Would it learn language? A professor and his hippie girlfriends tried this experiment during the 1970s with a chimp named Nim. Everyone of the dozen of humans who raised and cared for the chimp, bonded and communicated with Nim as if he were human. Nim was raised by a free-love mother who never disciplined him. When he got too strong to handle he was sent off to an animal farm where a long-haired hippy befriended him, and hung out everyday with him for years; he and Nim often smoked joints together. The farm ran into financial difficulties so, despite the outrage of his human family, Nim the "talking" chimp was sold to a research center where he was the subject of "medical experiments." Finally he was rescued. Amazingly, Nim was filmed for much of his life so the director was able to put together this fantastic visual biography. Woven together with interviews from all the principle characters in Nim's life we get an intimate record of this grand but misguided adventure. A hundred questions are raised by the experiment and many are answered by this superbly crafted film. I recommend it highly.
— KK
Project Nim
James Marsh
2011, 93 minutes
DVD, $9
Read more about the film at Wikipedia
Rent from Netflix
Available from Amazon
This documentary explores the extreme lengths that black women in America go to to straighten their naturally curly hair. There's a lot of identity, gender and beauty politics wrapped up in their expensive, and at times painful, solutions. This documentary could have been an important but boring film, but comedian Chris Rock adds laughs to curl an otherwise straight subject. The result is funny, at times hilarious, but also deeply thought-provoking, and even informative (who knew black women's hair weaves all came from one temple in India?). This is a fantastic true film because it illuminates the complex invisible world that hides right behind an everyday common thing — straight hair on black women. I've seen it twice already.
–KK
Good Hair
Jeff Stilson
2009, 95 min.
$3, Amazon Instant Video rental
Read more about the film at Wikipedia
Rent from Netflix
Available from Amazon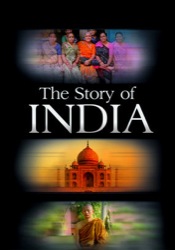 One of my favorite historians, Michael Wood, tells the fantastic history of India by visiting the places where it happens. Best of all, he describes the IDEAS that each place launched. The story of India spans thousands of years and thousands of miles, and five episodes. Wood is both intelligent and genial, and deeply familiar with the subcontinent, so you get an incredibly insightful tour of this vast land. Wood takes you to unexpected corners deep inside the culture. I've read a lot of Indian history, seen a fair number of documentaries about the country, and I have traveled extensively throughout India over many years. This is by far the best treatment of this still rising civilization I've seen.
The Story of India
Michael Wood
2007, 345 min
$19, DVD & Blu-Ray (2 discs)
Read more about the film at Wikipedia
Rent from Netflix
Available from Amazon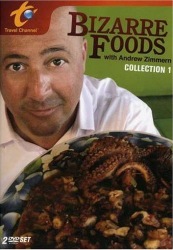 Cooking show meets travel show. The gimmick works. Balding fat chef goes on a quest to eat the weirdest, strangest, most bizarre foods in the world. He'll try anything twice, and then give his "review" of it. Humans somewhere will consume anything that moves, or is grown, so there is plenty of material. Strict vegetarians may want to avoid watching. Not only is any animal, insect, fish, invertebrate eaten, every part of it is gobbled down, as well.
The host, Andrew Zimmern, is plain spoken and enthusiastic. Sort of the opposite of a food snob. While there's adequate background on each exotic host country and culture, the main emphasis is on Zimmern simply understanding and trying out bizarre foods. I've given my kids the DVDs in order to encourage them to eat outside the box. I think we owe it to ourselves to explore the world's cuisine and outer boundaries of food. You don't have to like it, just try it. Better than several books on the subject, this series will make you rethink your food limits. It's comparative foodology 101. All weird foods have a good story behind them, as revealed in these upbeat documentaries.
There is a competing cooking/travel show hosted by another globetrotting chef, Anthony Bourdain, but this series, No Reservations, is more about the chef himself than the food. I found Bourdain smug, self-centered, prissy, and uninteresting, but your mileage may vary. Some like his snarky style. For a fun journey to somewhere different stick with Bizarre Foods.
— KK
Bizarre Foods
Andrew Zimmern
2007, 338 min.
$2 per episode, Amazon Instant Video
Read more about the film at Wikipedia
Rent from Netflix
Available from Amazon
This series is the best exposition of a minimal-technological lifestyle that I have ever seen. It is far more revealing than most anthropological documentaries. Here, two white guys go native. For three months they live with a Papua New Guinea tribe that still adheres to traditional hunter gathering mode, using bows, stone and bone tools. Unlike most visitors, including anthropologists, these guys eat only what the tribe eats; indeed, they eat only food that they help find and process. They learn to make their own traditional tools and weapons. Seeing this process we get a very good sense of what is involved in living "in harmony with nature." It's tough. Each week the visitors give up more of their gear until they wear what the tribe wears, which is not much. The filmmakers record their own bumbling attempts to learn how to survive in the forest as these members of the Kombai tribe do, and via their education we get a fantastic view of tribal life.
In the second season, Mark and Olly join the highlander Mek tribe, also in Papua New Guinea (the Kombai were lowland tribe), and again go full immersion. During their four-month stay, they build their own hut, get initiated into the tribe, learn to love roots, and get swept up in village and tribal politics.
In their third season Mark and Olly go native with the Machigenga tribe at the headwaters of the Amazon. As in the other two tribal stays, this series gives a intimate portrait of what tribal life is like day to day. Tribal life is easier than one expects in many ways, and less appealing in many others. What surprises me is how disruptive small events are to a tribe, yielding constant drama.
— KK
Living With the Kombai
Mark Anstice, Olly Steeds
2007, 287 min.
DVD, 2-disc set, $8
Available from Amazon
Rent from Netflix
Living With the Mek
Mark Anstice, Olly Steeds
2008, 319 min.
DVD, 2-disc set, $13
Rent from Netflix
Available from Amazon
Living With the Machigenga
Mark Anstice, Olly Steeds
2009, 348 min.
DVD, 2-disc set, $8
Rent from Netflix
Available from Amazon
Read more about the film at Wikipedia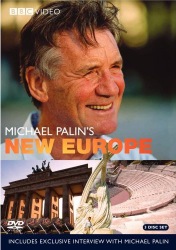 My favorite travel host, Michael Palin, explores his own continent. With his usual agreeable wit, Palin departs from his home in Old Europe and with BBC crew in tow, he sets off by train to investigate all 20 newly opened European countries which were formerly off-limit to casual travel. Besides the expected classic Eastern Europe destinations, this journey includes the many new tiny Balkan countries, and several breakaway provinces near Russia, and little visited countries such as Moldavia, Albania, Kaliningrad. To present a country Palin mixes the grand and the tiny, the classic shot and the offbeat, the intelligent uplifting interview and the plain goofy stunt. What else would you expect from a former Monte Python member? This seven-part travelogue on Eastern Europe is fun, revealing, informative, and fresh, and made me eager to know more.
— KK
Michael Palin's New Europe
2007, 350 min.
DVD, 3 discs, $12
Read more about the film at Wikipedia
Rent from Netflix
Available from Amazon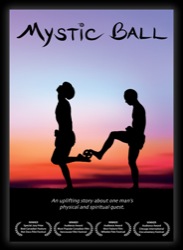 This lovely, lyrical documentary introduces Chinlone, a Burmese sport that soars somewhere between acrobatics, hackey sack, and Balinese dance. This game, unknown outside of Burma, became an obsession for Greg Hamilton. For the past 20 years he's painfully tried to whisk the distinctive woven-rattan ball, faithfully returning to Burma to play in tournaments, becoming the first westerner to do so. What makes this film so rewarding is Hamilton's candid autobiographical account of his slow learning. At first he is laughed at, but after 8 years of filming, he slowly gains respect from the Burmese. Chinlone is a beautiful non-competitive game. You "win" by keeping the ball in the air for your teammates — a fit metaphor for life, and a perfect frame for this extremely contemplative but dynamic film. Greg's story is really not about sport, or the Zen of Burmese Hackey Sack, but about how to learn and love.
— KK
Mystic Ball
Greg Hamilton
2006, 83 min.
DVD, $20
Rent from Netflix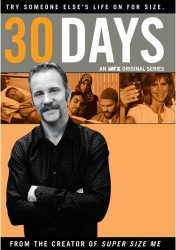 The star of the hit documentary Supersize Me took his winning format of Total Immersion For 30 Days and applied it, with the help of other willing subjects, to a number of other alien worlds. For 30 days your host in each episode of this reality series will live within agreed constraints in order to shift their — and your — point of view. Ideally the show throws a person into the lives of those they despise. Take a southern Christian and make him live in a Muslim home and community. Take an anti-immigration bully and have him live with illegal immigrants. Make an abortion rights activist work at a pregnancy crises center. Or an atheist live with Pentecostals. A guy who lost his job to outsourcing in India, goes to India to reclaim his job there. Have middle class professionals try to pay rent and doctor bills on minimum wage. Or an innocent live in jail, with solitary confinement. A lot can happen in 30 days, distilled into an intense 60 minutes. Yes, it's a gimmicky formula, but it really works. You'll learn a whole lot.
— KK
30 Days: Complete Series
Morgan Spurlock
2004, 354 min.
DVD (6-disc), $19
Read more about the film at Wikipedia
Rent from Netflix
Available from Amazon
Twenty years ago 20,000 orphaned and displaced boys began streaming out of Sudan. They languished with no future in poor camps in neighboring countries. In 2001, about 3,000 of them were resettled in the US. This doc is the true story of a few of those boys, almost men, as they leave their very stark pastoral life (zero electricity or running water) and slip unnoticed into frantic, crazy urban America. This is not the only documentary about this dramatic transition. The Lost Boys of Sudan, for instance, has many fans. But by following the immigrants for a longer period, both before they arrive and after their shock immersion into American culture, God Grew Tired of Us is the most rewarding and the deepest. One thing I learned from this film: no matter how amazing modern amenities are, people will take them for granted after about 5 minutes. But as these really remarkable and likeable "boys" show, it's people and relationships that really count for wealth.
— KK
God Grew Tired of Us
Christopher Dillon Quinn
2006, 89 min.
$10, DVD
Read more about the film at Wikipedia
Rent from Netflix
Available from Amazon
Back to Top