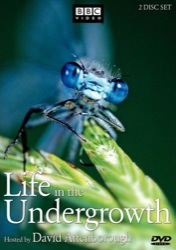 Amazing! Astounding! Utterly cool. Hi-tech photography makes this the best David Attenborough nature series ever. The subject is earth's invertebrates, or in other words, the creepy crawly things that fill the woods, bushes and undergrowth. Insects, spiders and their kin. The diversity of these beings is vast, and their bizarre stories untold. Attenborough and the BBC spend a lot of money and time traipsing around the world using really cool infrared cameras to see at night, or pinhole cameras to see up close, or ultra-fast cameras to catch wings flapping. The view they capture of these unnoticed critters is absolutely stunning. They invert the usual view of bugs by filming them from their level or below. It turns out that when you can place your camera so that you literally look up to an ant while seeing it in its environment, then you look up to it with new respect. The bugs seem more like the animals they really are. When all their hairs, scales, and whiskers are visible, their true animal nature can be seen. As usual Attenborough's very biological organization of what you see and his crisp insights make this journey unforgettable and an instant classic. I've seen it twice already.
— KK
Life in the Undergrowth
By David Attenborough
2005, 250 min.
$2 per episode, Amazon Instant Video rental
Read more about the film at Wikipedia
Rent from Netflix
Available from Amazon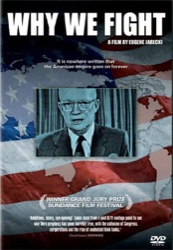 This is a complex anti-war film. I recommend all lefties and righties see it. It's sort of a civics class.
Its main thesis was articulated by President Dwight Eisenhower, who was no peacenik. As a former US general, Eisenhower was deeply familiar with how the agendas of military contractors meshed with the agenda of a vast standing army to form one large mutually self-reinforcing force called the "military-industrial complex" — a term he coined. This complex was hard to vote against, and therefore hard to constrain. By the end of his term Eisenhower was sincerely alarmed by its influence. He felt that if unchecked it threaten to overtake the interests of a democracy.
To illustrate Eisenhower's fear of a military-industrial complex gone berserk this film traces its unequivocal expansion since Eisenhower. It retells recent US wars, chiefly Iraq, in the language of the ones who benefit most from the wars. When we fight, they win. Do we fight so that they can win? The filmmakers don't deal with alternative or supplemental reasons for "why we fight," so their case is not a balanced trial. But it is a very informative and eye-opening argument. I found it convincing enough that it moved me to agree with President Eisenhower. We should be alarmed by the complex's power since it gains so much when we fight. The film is a little preachy, suggesting that in order to purify "why we fight" we need to relentlessly push back against this entrenched system which often hides its self-interest in a flag. The desires of the military-industrial complex are not the only reason why we fight, but as this film makes so visible and plain, it can easily become the only reason if we aren't vigilant.
— KK
Why We Fight
By Eugene Jarecki
2005, 98 min.
$20, DVD
Read more about the film at Wikipedia
Rent from Netflix
Available from Amazon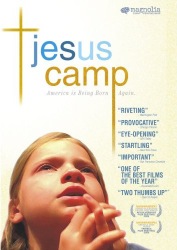 This film succeeds in making you afraid of Evangelical Christians. You get an inside look at a zealous summer Bible camp, filmed with the full participation of the eager director and very young participants. There are a lot of things to be scared of: talking in tongues, an unholy mix of politics and religion, lots of blind intolerance, the brainwashing of kids, and seriously misguided zeal. As a devout Christian I am ashamed. However, its success rubs me the wrong way because stirring up fear – whether justified or not – makes people stupid. We already have a government stupefied by Fear of low risk terrorism, of Muslims, and the like, with no attempt at understanding. This film, although honest in its portrayal, feeds that republic of fear. I'd like it a whole lot better if it would have revisited the kids when they were mature (as 49 Up does) to see how this camp changed them. The film, as is, makes no attempt to understand the strange things its sees – only to drum up fright. But because the documentary of these common Evangelical/Pentecostal scenes are not very common in mainstream media, and because the glimpses are direct, intimate, unflinching, real, and honest as far as they go, I recommend it. Christians, take heed.
— KK
Jesus Camp
Directed by Heidi Ewing and Rachel Grady
2006, 84 min.
$3, Amazon Instant Video rental
Read more about the film at Wikipedia
Rent from Netflix
Available from Amazon
Back to Top