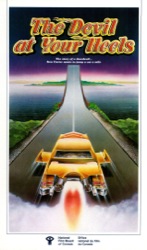 Another crazy Canadian. This is a guy who jumps cars for a living. He buys junkers, pops the windows out, and then with a running start, uses a ramp to see how many lined-up cars he can fly his junker over (usually a dozen). He does that twice a night until he breaks a bone as he crashes into the last car. After 20 years and many injuries this small-time circus gets boring so he is seized by a big dream: to jump a car one mile. Over a river. A river that separates the US and Canada. So for the next 5 years his life is consumed as he spends millions of dollars of other people's money building this gigantic impossible ramp 200 feet into the air on the edge of the St. Lawrence River, while every possible thing that can go wrong with his rocket car goes wrong. Even the great Evel Knievel visits and advises him to give up. Nothing stops him from trying, and nothing prepares you for the shock of the surprise ending. Oh my gosh.
— KK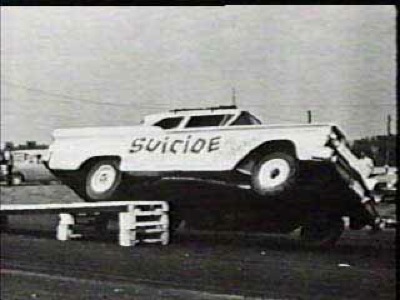 Devil at Your Heels
Directed by Robert Fortier
1981, 103 min
$27, DVD
Watch film for free at NFB.
Read more about the film at Wikipedia
Available from Amazon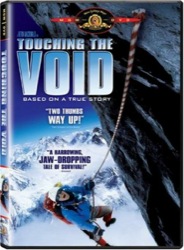 This true film re-enacts a harrowing adventure by two mountaineers on a remote peak in the Andes, still unclimbed today. Near the top one mountaineer with a badly broken leg disappears over the edge of a cliff in a storm, hangs by a single rope, but is thought to be dead, so the rope is cut. Miraculously the injured man falls into a deep crevice, lives, and crawls out with his hands and rolls down a glacier and creeps back to camp almost dead on his elbows 6 days after they set out. Together with two stunt men, the two climbers re-live their nightmare by re-climbing the route and revealing what they were thinking the first time around. As an act of honesty, bravery and endurance, it's staggering to watch. At every junction you are sure, this is the end! But it isn't. In the climbing community this is considered one of the best mountaineering films ever.
— KK
Touching the Void
By Kevin MacDonald
2003, 106 min
$3, Amazon Instant Video rental
Read more about the film at Wikipedia
Rent from Netflix
Available from Amazon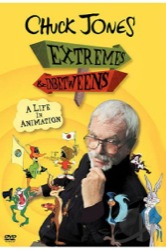 A lightweight biography of the guy who developed Bugs Bunny, Daffy Duck, Porky Pig, Roadrunner and the Warner Brothers style of slapstick cartoons. But that's not why this is worth seeing. On the special features menu on the DVD is a short tutorial by Chuck Jones on his rules of animation, illustrated by brilliant clips from his cartoon shorts. These spots quickly give you the best short course in classic comic animation you'll ever find. It's no more than 10 minutes but it's revelatory.
— KK
Chuck Jones: Extremes and In Betweens
By Margaret Selby
2000, 90 min
$40, DVD
Read more about the film at Wikipedia
Rent from Netflix
Available from Amazon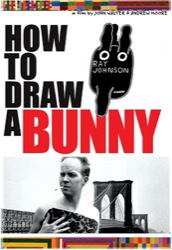 A pointed film about a most peculiar artist — an artist too peculiar even for the New York art crowd. Ray Johnson had as much talent as Andy Warhol (a friend and colleague) but he really didn't want money or fame. He just wanted to make mail art and to amuse himself at home with whimsical and sly collages. (A goofy kilroy-is-here scribble bunny became his signature.) Soon, like Picasso, or a naive folk artist, everything in his grasp became art. Real artists grokked his stuff –if they ever got to see it, which few did. So he came by reputation to be the most famous unknown artist in America and then as a recluse he mysteriously disappeared, probably a suicide drowning. He left behind a huge master collage — one clue pointing to the next in a complex recursive joke — which turned out to be his life. In a delicious way I really enjoy, this documentary itself became an integral part of his grand collage to keep us guessing.
— KK
How To Draw a Bunny
By John W. Walter
2002, 90 min
$21, DVD
Read more about the film at Wikipedia
Rent from Netflix
Available from Amazon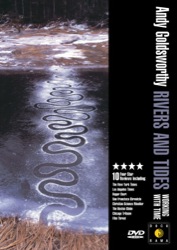 One of the best films about art, by one of our best living artists. Drift in and out of the dreams of Andy Goldsworthy as he summons a cornucopia of temporary monuments — an arc of icicles, a train of flowers, a hive of sticks — from bits of leaves, twigs, rocks, ice and mud. He makes things you could easily make — if only you saw the world as he does. By the end of this beautifully lyrical film, you DO begin to share Goldsworthy mystical vision of a world swimming in energy and flows. My favorite moment: when he despairs as his painstakingly constructed pieces fail before they are finished. But a little later, after he tries again, he watches in boyish glee as they naturally fall apart. There's an angelic sweetness about that switch.
(Since Goldsworthy sees his photographs of his creations as essential to his art, a gallery of his best work is available in several books. The best one to start with is Andy Goldsworthy: A Collaboration with Nature.)
— KK
Rivers and Tides
By Thomas Riedelsheimer
2001, 90 min
$12, DVD
Read more about the film at Wikipedia
Rent from Netflix
Available from Amazon
The deep pleasure in this DVD is watching an artist work, from concept to final execution, on two of America's finest modern art pieces: Running Fence and Valley Curtain. Running Fence was a 24-mile 18-foot fence of white fabric zig-zagging across farmland in northern California, till it ran down into the Pacific ocean; Valley Curtain was a huge orange drape hanging across a canyon in Colorado. Both extravagant structures were deliberately temporary — 2 weeks. Nonetheless the relentless political opposition to these ephemeral public works, an opposition conducted primarily by misguided over-zealous environmentalists, became in Christo's hands, part of the artwork itself. This pair of documentaries spends much time on Christo and his wife's frustrating campaign to convince landowners, politicians, greenies, engineers, and even other artists that their work was art. Understanding this resistance elevates your appreciation of the magnificent land-art pieces when completed.
— KK
(Both documentaries are on the first DVD of a series of three containing 5 documentaries about Christo's work.)
5 Films About Christo and Jeanne-Claude
By Albert Maysles
1973, 282 min
Rent from Netflix
Available from Amazon
Back to Top