How to do it
Take something as simple and ordinary as tea, then dig deeply into its roots to show that it is far more complex, subtle, varied, challenging and interesting than you would have ever believed. That's the recipe for a delicious documentary, and this one delivers. A fanatical tea drinker in California becomes a connoisseur of fine teas, and then goes on to restore now forgotten traditions of organic artisan tea growing in China. Along the way he reveals the fascinating intricacies of how tea is hand-crafted, almost like a bottle of wine. This low-key journey into the hinterlands of China will completely transform your idea of tea.
— KK

Reader Recommendations:

"Great introduction on tea culture and how it's changing in the 21st century, especially in regards to organic/pesticide issue." — Wayne Bremser

All In This Tea
Les Blank, Gina Leibrecht
2007, 70 minutes
$2, Amazon Instant Video rental
Read more about the film at Wikipedia
Rent from Netflix
Available from Amazon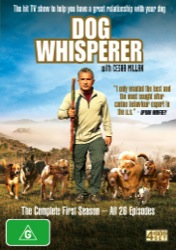 People have dogs with uncontrollable behavior. They've been to obedience school, and have tried every trick they can find, and they still can't control the dog. After years of "bad dog" blues they are ready to give up. Then they call Cesar Millan, the dog whisperer, to their home, and five minutes after he walks through the door he has the dog in perfect control. An hour later the astounded owners have reformed the bad dog to good dog. It doesn't matter how weird, ferocious, demented, and neurotic the dog is, the dog whisperer can fix them almost instantly. The hundreds of transformations in this series are endlessly fascinating, kind of like magic tricks, as the owners keep saying, "I can't believe it!" It's quickly evident the owners are the ones who are weird, ferocious, demented and neurotic, and so the series manages to be constantly entertaining (it is now up to 4 seasons on National Geographic) because you are watching people confront themselves. As the dog whisperer says, "I rehabilitate dogs, and I train people." Of course, there are tons of insights into dog behavior and guidelines for keeping you sane and your dog lovable.
— KK
The Dog Whisperer: Season 1
Cesar Millan
2004, 662 min
$2 per episode, Amazon Instant Video
Read more about the film at Wikipedia
Rent from Netflix
Available from Amazon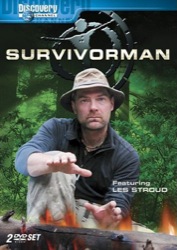 This reality series ceaselessly re-runs on the Discovery Channel, but is also available on DVD for those who are tv-less. The seven documentaries pit a dour Canadian survivalist against various extreme live-or-die situations. For instance our hero finds himself in a life raft adrift at sea, or stranded in the middle of the desert with a broken bike, or alive in a crashed plane in the arctic. In this show the survivalist is all alone with minimal gear (a competing survivor man has a film crew with him). This survivorman carries a multi-tool, a snack or two, and some odds and ends — and two complete sets of video cameras and tripods. With these he'll film himself as he barely survives for one week eating bugs, starting fires with sticks, and finding his way to rescue. Backpacking the 55 pounds of camera gear and keeping the film going turns out to be almost as hard as keeping the fire going. Despite his constant whining about how hard everything is, the series is entertaining and slightly educational. He never slows down enough for you to learn exactly how to roast a snake, but you'll pick up the survival principles he constantly harps on: don't panic, keep warm, get water and look for food last. Just knowing that you really can start a fire by twirling sticks if you persevere for 20 minutes as he did might come in handy someday.
— KK
Survivorman
Les Stroud
2007, 405 min.
DVD, 2 discs, $13
Read more about the film at Wikipedia
Rent from Netflix
Available from Amazon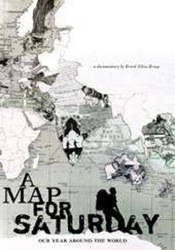 Don't watch this film unless you are ready to quit your job. Seriously. It's about the emotional challenges and sheer joy of long-term travelling — as in backpacking around the world for a year. This kind of vagabonding is more a state of mind than a state of motion. The film explores the mellow subculture of (mostly) young people who trek along an invisible international traveller's circuit. There's a kind of endless distributed global party going on every day of the year (plainly visible here), and to join it all you need is a ticket to any country and the address of the local hostel. I was part of this mind-set for many years and boy, does this film nail the peculiar delights of perpetual cheap travel. Not just the highs (everyday is Saturday, each new person an instant best friend), but also the lows (always saying goodbye, and loss of connection). Something weird happens when you travel longer than 10 days, and that wonderful transformation (which no one can explain to their family when they return) is what this superbly written, fabulously edited, deeply personal and wonderfully likeable documentary is all about. But this bug is contagious. It is impossible to watch this fun film and not confront the fact that you are here instead of there, on the road, soaking up the world of all you-can-eat $3 dinners and $5 rooms, traveling the world for a year, as the filmmaker did himself. If you are headed in that direction, this disc will also work as a great orientation course, offering advice. It's the Zen and the Art of Long-term Travel.
— KK
A Map for Saturday
Brook Silva-Braga
2006, 90 min.
$20, DVD
Available from the filmmakers' website
Read more about the film at Wikipedia
Rent from Netflix
Available from Amazon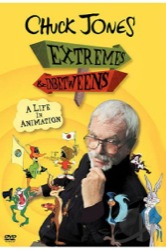 A lightweight biography of the guy who developed Bugs Bunny, Daffy Duck, Porky Pig, Roadrunner and the Warner Brothers style of slapstick cartoons. But that's not why this is worth seeing. On the special features menu on the DVD is a short tutorial by Chuck Jones on his rules of animation, illustrated by brilliant clips from his cartoon shorts. These spots quickly give you the best short course in classic comic animation you'll ever find. It's no more than 10 minutes but it's revelatory.
— KK
Chuck Jones: Extremes and In Betweens
By Margaret Selby
2000, 90 min
$40, DVD
Read more about the film at Wikipedia
Rent from Netflix
Available from Amazon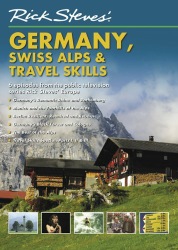 I rely on Rick Steves' masterly command of travel minutia to guide me in Europe. This guy spends 4 months there every year keeping his advice updated in his expanding line of eponymous books. Rick has the drill down perfectly, and he has a real gift for teaching what he knows. Yet as great as his books are, the very best way to get educated in traveling Europe with ease and grace is to watch his short course in Travel Skills. I am a hardened veteran traveler and I picked up some great tips. If you are just starting out to Europe, I can't recommend this enough.
Once sold as a separate tape, this video is now packaged as part of a longer DVD which also includes a quick and lively video tour of Germany and the Swiss Alps by Rick Steves himself.
— KK
Rick Steves' Germany, Swiss Alps & Travel Skills
With Rick Steves
2003, 150 min.
$40, DVD
Rent from Netflix
Available from Amazon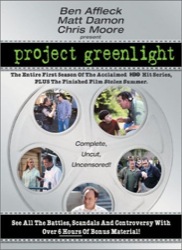 Should the desire to go to film school ever seize you, buy this 4 disc CD set instead. You'll learn about as much and saved many thousands of dollars. HBO sponsored a contest where the newbie winner — selected from 10,000 entrants after intense auditions — gets to direct and film their first-time screenplay. Of course HBO gets to film *them* as they thrash and burn. Naturally the documentary about the making of is better than the first time film, called Stolen Summer, also included. (I actually liked it.) There's plenty of drama in the 13-part "making of it" — back-stabbing, flameouts, hysteria, betrayals, and the uncertainty of whether the final film will be watchable. As a bonus, after 10 hours of this insider's view, you'll know how films are really made, and you'll be certain you could do better.
— KK
Project Greenlight: Season 1
Pete Jones, Ben Affleck, Matt Damon
2001, 453 min.
$25, DVD (4-disc)
Read more about the film at Wikipedia
Rent from Netflix
Available from Amazon
Back to Top