Sports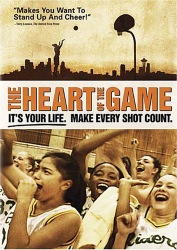 The great draw of this film is the marathon span of filming. For seven years a solo filmmaker followed a high school basketball team as it tried to mold suburban girls into state champs. That perseverance pays off with deep portraits of individual girls and the coach. The inspirational genius behind the team is an unlikely college tax professor who moonlights as the team's coach. He has a heart for the game, and can touch the hearts of everyone around him. The film follows a few girls as they rise, fall, sidestep, jump ahead and mature. In particular the film stars one remarkable girl who manages to overcome incredible obstacles. It's like the great documentary Hoop Dreams in some ways, only better. There's more play-by-play of actual games, which ratchets up the excitement and drama at least two notches. After seven years the film concludes in a nail biting climax that seems so unlikely you'd disbelieve it if it came from Hollywood. Despite all the flashy sport, theres a golden heart of wisdom at the center of this film.
— KK
The Heart of the Game
Ward Serrill
2005, 103 min.
$3, Amazon Instant Video rental
Read more about the film at Wikipedia
Rent from Netflix
Available from Amazon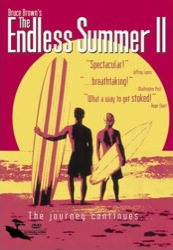 Bruce Brown repeats a world-wide surfing safari similar to one he pioneered 30 years earlier in his classic road trip documentary Endless Summer. This time he follows two young energetic kids as they bumble around remote reefs, get lost on the road, ride some awesome waves and have a jolly old time following the surf on four continents. Surfing is just an excuse to see some exotic places in the world closeup. This lightweight film has the same sunny cheerfulness, corny jokes, amusing high jinks, and silly quotient as his first. It's fun, fun, fun. Nothing world changing; just world enlarging. Chill out and enjoy.
— KK
Endless Summer II
Bruce Brown
1994, 100 min.
$17, DVD
Read more about the film at Wikipedia
Rent from Netflix
Available from Amazon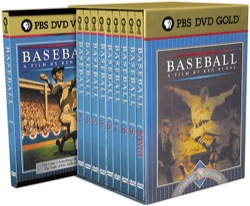 Ken Burns' masterful, comprehensive biography of baseball. It busts many of the myths of baseball's origins and weaves its growth into the very genesis of the modern American lifestyle. As with any Burns production, you get the big picture illuminated with lovely tiny details. At 10 DVD discs, it's way longer than 9 innings. Like some games, it can go on and on, and the later history of the Yankees is not as universally appreciated. But you don't know baseball — or America — until you've seen this.
— KK
Baseball
Directed by Ken Burns
1994, 1140 min.
$7 per episode, Amazon Instant Video
Read more about the film at Wikipedia
Available from Amazon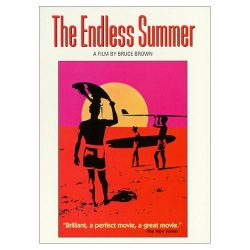 The granddaddy of all road trip films and extreme sports extravaganzas (those millions of surf, ski, motorcycle chronicles) is still charming 50 years after it was made. A few moments of cultural insensitivity now makes us cringe, but the constant good humor and pure adventure overwhelm any doubts. You go with the flow. More than any other surfing film since, the boundless sunny innocence of this classic makes you want to get a board to hit the waves, and see the world.
— KK
The Endless Summer
Directed by Bruce Brown
1966, 92 min.
DVD, $13
Watch the full movie on Youtube.
Read more about the film at Wikipedia
Rent from Netflix
Available from Amazon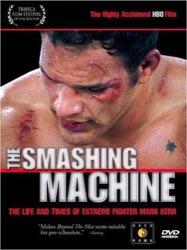 Ultimate fighting, where almost any move (kicking, knee to the head, etc) is permitted and blood encouraged, is as brutal as it sounds. Banned in the US, the high-purse contest moved to places like Brazil and Japan, where an international cast of scary characters try to make the championship. This gory story would be unwatchable except for the remarkable hero it follows. Like the Hulk he is huge, gentle, intelligent, and introspective. He hates hurting people, but does it because he needs money, and eventually this internal conflict does him in. He rises to greatness, is pummeled and falls low, and then is redeemed. Few people would have the courage to let a film crew record them at their low points in life, but that access makes this film great. I knew nothing about this sport or its world, and found many surprises in this strong film (with a great and unexpected music score). Recommended.
— KK
Smashing Machine
Directed by John Hyams (II)
2003, 92 min.
$25, DVD
Read more about the film at Wikipedia
Rent from Netflix
Available from Amazon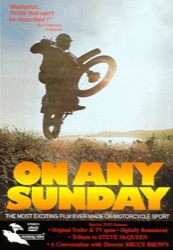 By the same guy who did the Endless Summer. What that classic documentary did for surfing, this one did for motorcycling when it was released 35 years ago. It made a somewhat fringe activity appealing to the mainstream. And like the Endless Summer, this film is almost as enjoyable now as it was in 1971 despite the many decades of technical improvement in equipment and the film's jaunty oh-so-seventies soundtrack. It's hard to remember that motorcycles were once esoteric, rare, and underground. This film recaptures the sudden exhilaration and freedom that regular people discovered by zooming along on two powerful wheels. On Any Sunday was the first of all motorcycle films, and may still be the best. It features some obsessive and legendary motorcyclists, as they became one with their bikes, practically living on them. They were some new kind of creature, human above, wheels below. Their relentless search for new ways to ride a cycle, and new races to join, keep this vintage film fresh and fascinating. Obsessive passion never ages, and never fails to fascinate me.
— KK
On Any Sunday
Directed by Bruce Brown
1971, 96 min.
$3, Amazon Instant Video rental
Read more about the film at Wikipedia
Rent from Netflix
Available from Amazon
Sons of The Endless Summer. All three of these recent documentaries are very satisfying overviews of surfing today. Step Into Liquid is actually made by the son of the filmmaker of the original Endless Summer surf fest — the granddaddy of all surf movies and road-trip documentaries. It's a fun roundup of how surfing has blossomed to become mainstream and recently technologically innovative. It presents some offbeat surfers, like the ones who ride behind oil tankers. Riding Giants, on the other hand, is a quick history of how surfers were seduced by bigger and bigger waves, and delves into the subculture of big wave surfers today. But for my money, the best of the three is Billabong Odyssey, which is the Endless Summer on steroids. The film follows a crack team of big wave surfers as they fly around the world seeking out really HUGE waves (60 plus feet), with the hope of (and prize for) first successfully surfing a 100-foot wave. It is hard to describe how monstrous and punishing these waves are, but with helicopters, water jets, rescue teams, and coast guard boats in support, you get an awesome view of giant wave surfing, and by all accounts a peak human moment. One gets a sense that surfing has just begun.
— KK
Billabong Odyssey
2003, 92 min.
Directed by Philip Boston
$8, DVD
Available from Amazon
Rentable from Netflix
Riding Giants
2004, 101 min.
Directed by Stacy Peralta
$8, DVD
Available from Amazon
Rentable from Netflix
Read more at Wikipedia
Step Into Liquid
2003, 87 min.
Directed by Dana Brown II
$3, Amazon Instant Video rental
Available from Amazon
Rentable from Netflix
Read more at Wikipedia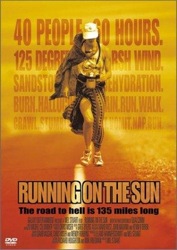 This film marries three of my favorite genres: fringe characters, tales of endurance, and a contest. The contest is a 135 mile footrace — essentially five marathons back to back — held annually in Death Valley, during the brain-frying furnace of July. It ends up high on Mt. Whitney after a killer climb. The runners shuffle through the nights and don't sleep for days. The black asphalt road is about 150 degrees. Everyone succumbs to heat exhaustion; the trick is to avoid heat stroke and death. In this year's event there are two amputees, who hobble the entire 135 mile run on their flesh-gnawing prosthetic legs. In Death Valley, in July Why? Because the memorable characters are compelled to. The tough guys and gals puke ceaselessly and are carried away on stretchers. Surprisingly, most of the winners are in their 50s and 60s; something about pacing and knowing yourself. Even more surprising, by the time you finish watching this irrational race and the characters it attracts, you are thinking to yourself, hey, that's so stupid it's inspiring; I wonder if I should do this?
— KK
Running on the Sun
Directed by Mel Stuart
2000, 102 min.
$105, DVD
Read more about the film at Wikipedia
Rent from Netflix
Available from Amazon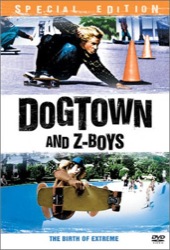 You would not expect a documentary about the slacker origins of skateboarding culture to hold your attention for more than 10 minutes, but Dogtown and Z-boys certainly does. It unleashes a steady stream of surprises, beginning with a small band of juvenile delinquents and outcast school kids who were so downtrodden they were kicked out of good waves in Santa Monica California. They then began to surf dorky skateboards. Soon they were amusing themselves with breaking into vacant backyard swimming pools and "taking on air" with zany skateboard antics and a lot of attitude. How this small-time obsession became an international sport, entertainment and merchandising complex is the rest of this amazing and well-made story. I consider it a key document of contemporary American culture.
— KK
Dogtown and Z-Boys
Directed by Stacy Peralta
2002, 90 min.
$3, Amazon Instant Video rental
Read more about the film at Wikipedia
Rent from Netflix
Available from Amazon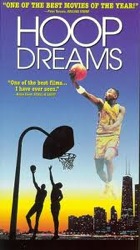 The thrill of a really great factual is you don't know how it is going to end. Here we follow young inner-city kids trying to escape their circumstances by making it big in basketball. We see how hard it is, and how big the dream can be. I came to root for them as if they were family.
— KK
Hoop Dreams
Directed by Steve James (II)
1994, 171 min.
$3, Amazon Instant Video rental
Read more about the film at Wikipedia
Rent from Netflix
Available from Amazon
Back to Top