Once upon a time Polynesian sailors could cross 6,000 miles of open ocean and land on a tiny pinpoint of an island using only the stars and waves as guides. Most of those navigators have died, and their secret knowledge with them. This film records one of the last navigators as he teaches his art to fairly clueless students. To demonstrate his skill for the benefit of the students and skeptical Westerners, he navigates across the Pacific with a film crew. The last navigator uses an oral ballad handed down through generations and encoded with instructions as the compass, and without sleeping much he watches the complex interactions of the waves to gauge speed and direction. At the end of weeks he arrives in Hawaii on schedule. A simple film showing what the human mind can do. It also honors the sophistication of supposedly simple societies.
(This film was formerly only available at overpriced "educational" prices, but it is now available as a low resolution digital download for a reasonable consumer price, which is how I watched it. While the price is great, the quality is just barely acceptable. Think YouTube.)
— KK
The Navigators: Pathfinders of the Pacific
Sanford Low
1983, 59 min.
DVD, $20
Available from Documentary Educational Resources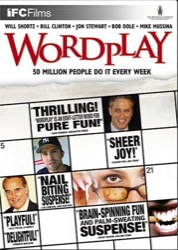 Yet another word puzzle gets its spotlight. This one is the New York Times crossword puzzle. Wordplay follows two great films on spelling bees (Spellbound) and Scrabble (Word Wars). Like the previous two, Wordplay follows fanatical contestants as they battle each other in various matches to win the championship game. The drama in Spellbound is the question of which little kid will go the furthest in the superhuman attempt to memorize the dictionary. The juice in the Scrabble documentary is the weirdness of adult professional Scrabble players; their lives are odd as they try to earn their living playing fast Scrabble games. The joy of Wordplay erupts from the delight of words, the mystery of puzzles, and the cheery intelligence of the game players. For me (a non-user) the behind-the-scenes look at how cross-world puzzles are constructed, and how they are solved by the best players is worth the trip. This film is surprisingly fast-paced, and entertaining. It takes a small corner of life and expands it with unexpected details, funny lines, and sure editing until it seems like the most fulfilling thing in the universe. You see crossword puzzles differently, but also life. Maybe because crossword players are so smart and fun, this film is. See it.
— KK
Wordplay
Patrick Creadon
2006, 85 min.
$3, Amazon Instant Video rental
Read more about the film at Wikipedia
Rent from Netflix
Available from Amazon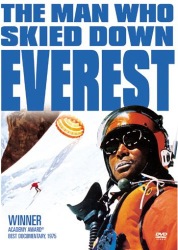 Why not? Skiing down is no sillier than climbing up it. In fact it brings a nice symmetry to Everest's mad dream. One could say it sort of justifies the deadly and unnecessary climb up. In 1970, long before conquering Everest was a routine leisure event, Japanese champion ski racer Yuichiro Miura decided he needed to climb up so he could ski down. He became obsessed with the idea. It took years of preparations, a huge team of scientists, and 600 overloaded Nepali and Sherpa porters to haul all the gear, food, and cameras needed to make this crazy wish come true. It wasn't an expedition, it was an invasion. Higher into the snow Miura's obsession to ski down Everest cost the lives of 6 men on his team.
This film is hypnotic and meditative. What starts out as a gonzo prank turns into an introspective zen journey, in part because of the cost of his achievement. This moody film is the complete opposite of any ski movie made since. There's no exultation, no hurrah, no high-five grandstanding. Instead Yuichiro Miura grapples with his own will, fear, and ambition. He begins to wonder whether any achievement is worth the sacrifices, even when freely given. He escapes the circle of questioning by skiing down. This film might be better titled Zen and the Art of Daring. It's powerful, spooky.
— KK
The Man Who Skied Down Everest
Directed by Bruce Nyznik, Lawrence Schiller
1975, 90 min.
$100, DVD
Read more about the film at Wikipedia
Rent from Netflix
Available from Amazon
Back to Top