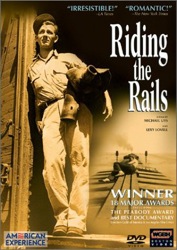 I learned something I didn't know. In addition to the millions of men who became hobos during the Great Depression in the US, this disruption also unleashed 250,000 teenagers onto the roads. These teenage hobos were in many ways like the hippies who would follow them a generation later. Almost on cue from some hidden silent signal, they left the farm at age 16 and hopped a freight train to anywhere. They were dropping out. Exploring. Seeing what was down the road. Looking for something. On the rails they met thousands of others exactly like them with the same idea. They were vigorously unwelcomed around the country; there wasn't enough work or food for the unemployed adults; as kids they were "urged" to move on. Their time on the rails and in rail camp "jungles" was harsh and sobering. In response to this tremendous social problem, Roosevelt set up the CCC, a kind of boot camp that turned these restless kids into an army that built many wilderness parks in the US. This brief season of freight hopping youth didn't last many years, but for the quarter million kids who rode the rails then, it was the experience of their life (until WWII came along). This documentary gives some idea of what that young life on the rail road was like.
— KK
Riding the Rails
Directed by Lexy Lovell and Michael Uys
1998, 72 min.
$11, DVD
Rent from Netflix
Available from Amazon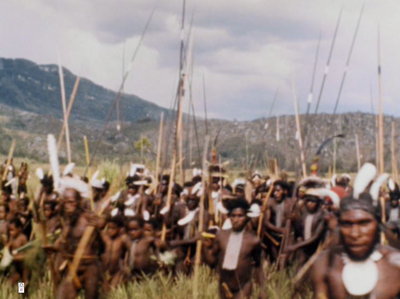 I've been trying to see this legendary film for years. It captures ritual warfare between tribes of farmers in Papua New Guinea. The war is played out on a weekly basis, and could almost be called sport except the warriors usually kill one person a week. Filmed in an ancient agricultural society, yet one that lacked contact with the rest of the world, it could have been shot 3,000 years ago. Visually stunning, almost poetic rather than anthropological, this record presents a timeless tableaux of distant "otherness." Yet, as the film unrolls we see the familiar as well.
It was filmed in 1961 in the very remote highlands of the Dani civilization in the Grand Baliem Valley of Papua New Guinea. At that time this valley was the last place on earth not to be colonized by Europe. Here a group of remarkable young filmmakers documented a cultural expression so strange that it seems unbelievable now that it has disappeared. Hundreds of men from each tribe would line up in sides on a vast grassy field – so everyone could watch — to have weekly skirmishes using spears and arrows. It was true war in that no one in the villages was safe. If men could kill a woman or child who wandered too close to the border field, they would. On the other hand it was ritualistic; they would not fight if it was raining or cold. Each death of a tribe member had to be atoned by another death from the other side. But to stop the game of killing altogether was unthinkable.
This film records the daily life of sweet potatoes farming, weaving, pig raising, and hut building needed to support this sport of war, and the great art, labor, love and sacrifice it required. Its intent is to try to penetrate the weirdness of this arrangement. It records the deadly battles in clear intimacy. We see their amazing surgery on the wounded, the shocking amputations of innocent women relatives, the preparations for feasts and funerals, and the daily chore of climbing the high watchtowers to watch for enemies. There is clarity and fascination in the many details — all in color — of a Neolithic lifestyle and craft.
Because this film was created for the Harvard Peabody Museum, it has been locked up in a silly "educational" pricing scheme for decades. (The film team included folks like Peter Matheson and Michael Rockefeller, who later made their own solo careers as naturalist and anthropologist.) Occasionally shown in anthropology classes, a VHS tape version of Dead Birds used to cost $400. Just to rent it once cost $100. (Standard prices for educational documentaries.) Recently, the distributor has bowed to the realities of new technology and is offering a double-DVD set of the film and additional material for $70. That sale price is still steep, but there is a lot to see, including footage not included in the 84-minute film, and several versions of commentary. And the film has been beautifully digitally remastered, making it superior to any prints of the last 40 years.
This is a unforgettable document, a reminder of who we are. I consider it one of the greatest documentaries ever made.
— KK
Dead Birds
Directed by Robert Gardner
1964, 84 min.
$25, DVD (2 discs)
Distributed by and available from Documentary Educational Resources
Read more about the film at Wikipedia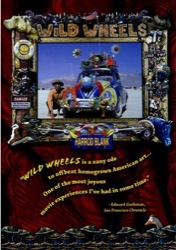 You mean you've never had the urge to decorate your car? Add a few marbles to the hood, or plastic toys on the roof? Or maybe cover it in grass? Harrod Blank, son of artist parents, got that urge one day in the 1970s, and converted his VW Bug into an "Omigod" car. It was promptly singled out for tickets by the police simply because it was strange. Soon he found other art cars around the country equally ostracized and began to interview their creators on film about their mutual obsession. This film took 10 years to complete and is a film made for love about cars made for love. Both are cheerful testaments to creative impulses. The art car artists are wonderfully sane, fabulously interesting, decidedly unique, and full of life. I am left wondering why we all don't personalize our cars? The film has an upbeat spirit and solid countercultural perspective – even though art cars are less rare these days. Really makes me want to turn my old white van into a blaze of dreams.
— KK
Wild Wheels
Directed by Harrod Blank
1992, 64 min.
$30, DVD
Rent from Netflix
Available from Amazon
Back to Top