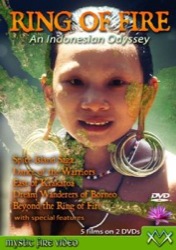 The best travel documentary series ever made. For ten years two brothers lived in, adventured throughout, and mastered the islands of Indonesia. They delve into this truly esoteric culture with reckless enthusiasm and true love. And they film a lot of bizarre events. This is travel as art.
— KK
Ring of Fire: An Indonesian Odyssey
Directed by Lorne Blair and Lawrence Blair
1999, 290 min.
$50, DVD
Re-released and available for purchase here.
Read more about the film at Wikipedia
Rent from Netflix
Available from Amazon
Back to Top