Hard to believe / extraordinary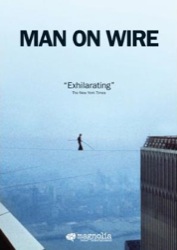 When he was a boy Philippe Petit saw a sketch of the world's tallest set of twin towers planned to be built in New York City. At that moment he imagined a wire between the two finished buildings and someone — him! — walking between them. He had never walked on a wire, and the towers were only an architect's dream, but to Philippe it seemed that the twin towers would be built specifically for this purpose: As a platform for him to wirewalk in the sky.
The rest of Philippe's life was spent in preparing for this inevitability. Learning how to walk a tight rope. Organizing a team. Waiting for the towers to be built. Stealthily casing them before they were completed. Planning the stunt. And then the hair-raising event itself in 1974. With an eye to both history and publicity, a lot of this prep work in the years before were filmed, and that footage is mixed with re-enactments to create an amazing document of an artist unleashed.
This compact, intense, burning grenade of a documentary — much like Philipe himself — radiates laser energy and the beauty of something as perfect as a line between two towers in the sky. It is a nearly perfect documentary. It is the only film reviewed by Rotten Tomatoes to rate 100%.
Man on Wire is an astounding, astonishing, head-shaking, exhilarating conquest of the impossible. It made my heart soar.
— KK
Man on Wire
James Marsh
2008, 94 min.
$3, Amazon Instant Video rental
Read more about the film at Wikipedia
Rent from Netflix
Available from Amazon
To Reach The Clouds Philippe Petit Paperback $4 / Hardcover $36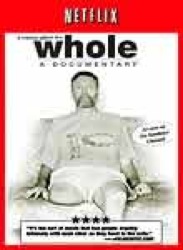 Whole is a long stare at a disturbing psychological abnormality wherein the afflicted feel an extreme need to amputate a perfectly good, working limb. From childhood the subjects in this film "knew" this limb was not really part of them, and removing its alien presence becomes an obsession. Some can map the alien border on the limb down to a millimeter. Most will get the part amputated one way or the other, or die doing it, and some do die. Those who succeed in amputation (often by deceit) feel happy and whole for the first time in their lives. It's a hard film to forget. There's no gore, but a lot of exposed psyches. This is far from a perfect documentary — too many questions are left unanswered — but it is powerful in its simplicity. It does what I always hope a documentary will do: move you to a place you have never been before. The place in this case is the idea that amputating a good limb is a good idea. It moved me several inches closer in understanding this bizarre compulsion.
— KK
Whole - Trailer from Frozen Feet Films on Vimeo.
Whole
Melody Gilbert
2007, 55 min.
DVD, $22
Read more about the film at Wikipedia
Rent from Netflix
Available from Amazon
OK, sure, I admit there is a base fascination with freaks. But conjoined twins, particularly this pair who share one set of legs and arms, raise the curiosity in interesting directions: What does it mean to be an individual? This pair's unusual arrangement means that unlike many conjoined twins, Abby and Brittany can do almost anything that a normal pair of twins might do. Except…. well, except there are two people in one body! Endless questions ensue from this documentary about their suburban life. If each girl controls only one arm and one leg, how can they ride a bike? Hit a baseball? Swim? When they drive a car, how do they decide where to turn? And do they get one licence or two? That particular question is answered on their 16th birthday, as this film follows them to the driving test center, where they pass the driving test (both turning the wheel). Their local DMV decides to issue them each one licence. On school tests, some teachers make each of them take the test — but they use both of their hands — and some allow them to take it once. As 16-year-old girls, they are clearly very different personalities, and distinct people sharing one frame. Despite their different tastes in fashions, they have to negotiate and cooperate on what to wear in the morning, what to type when instant messaging (each one controls each hand), what to eat, and when to do — everything! The issues of identity and boundaries of self are wobbly. When IM'ing the girls say "I" instead of "we". But what happens when they date? Or, even more mind boggling, marry? Most of these philosophical and medical questions are left unasked. Their family is intent on not letting them become medical subjects or media celebrities, so they have spent their lives in a very small town in Minnesota, going to high school and trying to be as normal as one could be — if you have two heads. This film won't scratch all the itches provoked by this extreme form of embodiment. The filmmakers have been given exclusive access to the pair, but it is obvious they are not pressing hard; they specialize in medical subjects. The girls, their families, and the film aim to convey how "normal" they are. And yes, it is amazing how humans will adapt to almost anything. But if you want extraordinary normal, if you want hyperreal challenges to the self, if you want a prime example of transhumanism in action, get this film.
— KK
Joined for Life: Abby & Brittany Turn 16
Advance Medical Productions
2006, 50 min.
$30, DVD
Available from Figure 8 Films
Read more about the film at Wikipedia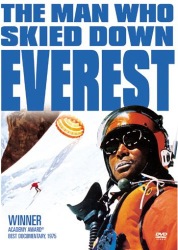 Why not? Skiing down is no sillier than climbing up it. In fact it brings a nice symmetry to Everest's mad dream. One could say it sort of justifies the deadly and unnecessary climb up. In 1970, long before conquering Everest was a routine leisure event, Japanese champion ski racer Yuichiro Miura decided he needed to climb up so he could ski down. He became obsessed with the idea. It took years of preparations, a huge team of scientists, and 600 overloaded Nepali and Sherpa porters to haul all the gear, food, and cameras needed to make this crazy wish come true. It wasn't an expedition, it was an invasion. Higher into the snow Miura's obsession to ski down Everest cost the lives of 6 men on his team.
This film is hypnotic and meditative. What starts out as a gonzo prank turns into an introspective zen journey, in part because of the cost of his achievement. This moody film is the complete opposite of any ski movie made since. There's no exultation, no hurrah, no high-five grandstanding. Instead Yuichiro Miura grapples with his own will, fear, and ambition. He begins to wonder whether any achievement is worth the sacrifices, even when freely given. He escapes the circle of questioning by skiing down. This film might be better titled Zen and the Art of Daring. It's powerful, spooky.
— KK
The Man Who Skied Down Everest
Directed by Bruce Nyznik, Lawrence Schiller
1975, 90 min.
$100, DVD
Read more about the film at Wikipedia
Rent from Netflix
Available from Amazon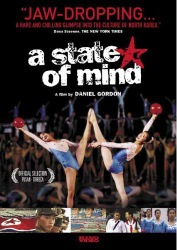 One of the most amazing films I've seen in years. Welcome to the world's largest, weirdest cult: the nation of North Korea. The entire economic engine of this country is aimed toward producing a yearly religious spectacle of unimaginable scale. This film follows two school girls and their family as they practice up to 6 hours per day for 9 months in order to preform a "mass game" for their holy president. Some students are pixels in a stadium-sized human jumbotron. The resulting images and performances are utterly perfect. Not a single speck is out of order. After the ten-day event, the North Koreans go home and watch their flawless work on their one government channel and marvel to themselves about how superior their discipline is, how delighted they are to surrender everything to the greater group. What's frightening is how deeply they buy into the cult. The kids eagerly graduate from the sports spectacle to the military spectacle, which shares the same mentality of the perfect machine. Without saying anything (there's almost no narration) this film reveals what group insanity would be unleashed in military action against North Korea. I'm so glad this incredible film has been made, because in 50 years from now, when the cult is gone, no one will ever believe it was possible on the scale we see here.
— KK
State of Mind
Directed by Daniel Gordon
2004, 94 min.
$30, DVD
Read more about the film at Wikipedia
Rent from Netflix
Available from Amazon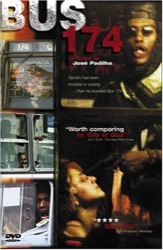 A gunman takes hostages on a public city bus in Brazil. The bus is stopped in full view of TV news cameras who then go on to record the horrifyingly inept police response. It is not everyday you get a front seat view in a disaster as it unfolds. You can also watch this as a documentary about corruption in the halls of power.
— KK
Bus 174
Directed by Jose Padilha
and Felipe Lacerda
2003, 120 min.
$7, DVD
Read more about the film at Wikipedia
Rent from Netflix
Available from Amazon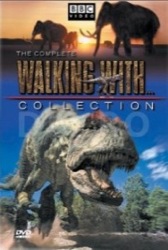 What if you could film dinosaurs on location, like in a nature documentary? That's what this four-hour BBC extravanaza does with advance digital technology. The incredible footage in Walking with Dinosaurs is utterly convincing. Home movies of Ornithocheirus. As far as science can presently tell, this is what dinosaurs were like. From mating rituals, to tending their young; from chasing prey to fleeing from predators. These videos are better than any textbook: scientifically sound, technically astounding. Even better is Walking with Prehistoric Beasts. This sequel expands the variety of creatures brought back to digital life. You get saber tooth tigers, giant sloths, and a two-ton armadillo, among other extinct species -all with the same versimilitude of a convincing digital recreation. One continues to believe they were merely filmed. Walking with Allosaurus features one species of dino in depth. The "making of" portions for each film by the zoologists are just as educational . We watch these films quite often. Walking with Dinosaurs alone is worth four hours of your time.
— KK
The Complete Walking with... Collection
Directed by Tim Haines
2000, 240 min.
$82, DVD (3 discs)
Read more about the film at Wikipedia
Rent from Netflix
Available from Amazon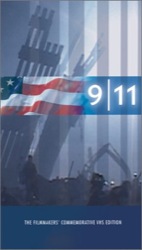 By fantastic coincidence two young French filmmakers were documenting the life of a New York firehouse for several months when the Twin Towers were stuck by planes. Their chosen firehouse just happened to be the closest one to the World Trade Center. By pure luck they filmed BOTH planes hitting the towers, and the fall of the second tower, minutes after they exited it, after having followed their subject firefighters into the burning tower. This film is the most amazing inside look at the hellish events as the towers burned and crashed. In addition to the expected horror, there is personal drama: you are waiting – like the other firemen in the station – to find out who did not return from the collapse. The footage is heroic and astounding and heartbreaking. I experienced a huge sense of emotional closure by watching the film because I now felt I had some idea of what happened in the offices; I felt I was there. This documentary guarantees you a journey you won't forget.
— KK
9/11
Directed by Gedeon Naudent, Jules Naudet and James Hanlon
2002, 120 min
$3, Amazon Instant Video rental
Read more about the film at Wikipedia
Rent from Netflix
Available from Amazon
Back to Top