Wackos / crazies / eccentrics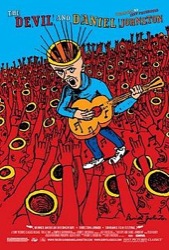 This is one of those amazing stories that sticks with you forever. In the beginning, a few decades ago, Daniel Johnston is a very talented kid who makes weird art and music and also records his life on film. He hopes to be a famous artist some day. But his art and life get weirder and weirder. He keeps recording his life, but it is clear to others he is going crazy. He is racked by "demons" — which is what his Bible-believing parents and Daniel himself believe. Yet, Daniel acquires thousands of true fans who see him as a genuine outsider artist and musician who makes visionary basement cassette tapes. Over time Daniel slips into self-destructive behavior until he is "rescued" by his father who whisks him away in a small plane. Then Daniel yanks the keys out of the plane in flight. It's the devil in Daniel Johnston his father says, and by now you believe it. You just gotta see this movie, in large part made by Daniel himself. It's a cult classic.
— KK
The Devil and Daniel Johnston
Jeff Feuerzeig
2005, 110 min.
$3, Amazon Instant Video rental
Read more about the film at Wikipedia
Rent from Netflix
Available from Amazon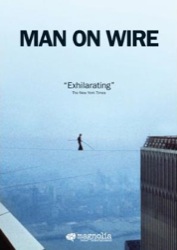 When he was a boy Philippe Petit saw a sketch of the world's tallest set of twin towers planned to be built in New York City. At that moment he imagined a wire between the two finished buildings and someone — him! — walking between them. He had never walked on a wire, and the towers were only an architect's dream, but to Philippe it seemed that the twin towers would be built specifically for this purpose: As a platform for him to wirewalk in the sky.
The rest of Philippe's life was spent in preparing for this inevitability. Learning how to walk a tight rope. Organizing a team. Waiting for the towers to be built. Stealthily casing them before they were completed. Planning the stunt. And then the hair-raising event itself in 1974. With an eye to both history and publicity, a lot of this prep work in the years before were filmed, and that footage is mixed with re-enactments to create an amazing document of an artist unleashed.
This compact, intense, burning grenade of a documentary — much like Philipe himself — radiates laser energy and the beauty of something as perfect as a line between two towers in the sky. It is a nearly perfect documentary. It is the only film reviewed by Rotten Tomatoes to rate 100%.
Man on Wire is an astounding, astonishing, head-shaking, exhilarating conquest of the impossible. It made my heart soar.
— KK
Man on Wire
James Marsh
2008, 94 min.
$3, Amazon Instant Video rental
Read more about the film at Wikipedia
Rent from Netflix
Available from Amazon
To Reach The Clouds Philippe Petit Paperback $4 / Hardcover $36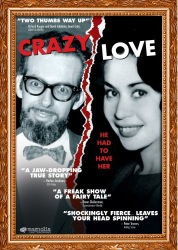 Love is weird. This is a riveting story about a mutual love/hate relationship so obsessive, so disturbing, so insane, and yet in the end so conventional, that it challenges your own concept of love — and sanity. The guy is a certified psycho stalker, but what is she? The film's twisted tale gets creepier as it goes along, but what makes this documentary memorable — and elevates it above a generic tabloid story — is how ordinary it all ends. Can love really conquer such psychosis? You could not make this plot up.
— KK
Crazy Love
Dan Klores, Fisher Stevens
2007, 92 min.
$3, Amazon Instant Video rental
Read more about the film at Wikipedia
Rent from Netflix
Available from Amazon
A modern compilation of film clips of whacky inventions, crazy stunts, and derring-do from the 1920s-50s. Very campy. Imagine if YouTube had been invented in 1930, and you'd get this.
— KK
Gizmo!
Howard Smith
1977, 80 min.
Watch at Youtube
Learn more at IMDB
Read more about the film at Wikipedia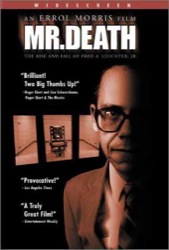 Let's follow an odd fellow as he strives to perfect the electric chair for the death penalty. By his calculations, the quicker the more humane. He shows us how he does this for various prisons in the US. He then goes on to "perfect" the lethal injection machine, the gallows, and eventually the gas chamber — all for humanitarian reasons of course. His supposed expertise in the gas chambers leads to an invitation by revisionists to examine the gas chambers of the Holocust. Once our hero does his naive engineering analysis in a stealth visit to the death camps ruins, he comes back converted as a Holocust denier. And then his life gets really interesting. This is a story about the consequences of expertise without context or guiding morality. Like all of Erol Morris documentaries, it is extremely well done.
— KK
Mr. Death: The Rise & Fall of Fred A. Leuchter Jr.
Directed by Errol Morris
1999, 91 min.
$13, DVD
Read more about the film at Wikipedia
Rent from Netflix
Available from Amazon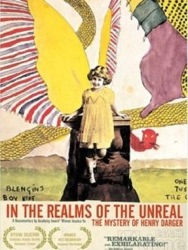 A poor old man lives 50 years as an absolute recluse without a single friend or family. He speaks to no one; he talks only to himself in his room. Using different voices, he acts out his rage at the mistreatment he experienced growing up in orphanages and institutions for the mentally handicapped. When he finally leaves his room to die in a hospital (where he once worked as a janitor), his landlords discover in his room the longest novel ever written — a towering stack of 15,000 pages. His tale recounts an imaginary, nearly endless series of battles between evil adults who wage war against innocent children — specifically, seven angelic sisters. Despite its stupendous length, this story and the man's life would have been utterly forgotten except for one amazing wrinkle. The man, Henry, painted hundreds of scenes from his 'realms of the unreal' on long scrolls in amazing detail. His paintings were immediately recognized as a work of art. He had gift: an exquisite sense of color, an eye for composition, and a true artist's vision. There was a touch of genius in him, one that not a single other human had ever known about. The one or two others who had any contact with him were shocked. This clever films manages to digitaly animate Darger's scrolls so their enhanced scenes represent the battles which consumed Darger, and through his zany colorful images you enter into his strange world, which he spent 50 years building in complete secrecy. His is not a welcoming world, born out of the pain of his own history; it's truly weird. But instead of spending 50 years in his room consuming TV, he spent 50 years producing his own fantasy, in great curious detail, and for that achievement, he deserves this worthwhile journey into his world and back.
— KK
In the Realms of the Unreal
Direct by Jessica Yu
2005, 82 min.
$20, DVD
Read more about the film at Wikipedia
Rent from Netflix
Available from Amazon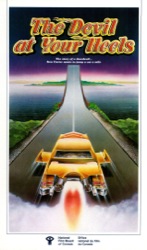 Another crazy Canadian. This is a guy who jumps cars for a living. He buys junkers, pops the windows out, and then with a running start, uses a ramp to see how many lined-up cars he can fly his junker over (usually a dozen). He does that twice a night until he breaks a bone as he crashes into the last car. After 20 years and many injuries this small-time circus gets boring so he is seized by a big dream: to jump a car one mile. Over a river. A river that separates the US and Canada. So for the next 5 years his life is consumed as he spends millions of dollars of other people's money building this gigantic impossible ramp 200 feet into the air on the edge of the St. Lawrence River, while every possible thing that can go wrong with his rocket car goes wrong. Even the great Evel Knievel visits and advises him to give up. Nothing stops him from trying, and nothing prepares you for the shock of the surprise ending. Oh my gosh.
— KK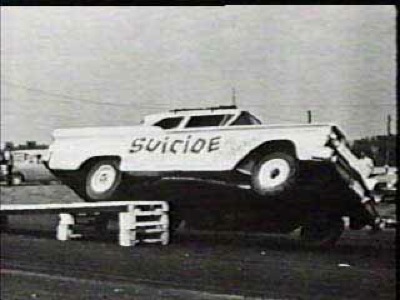 Devil at Your Heels
Directed by Robert Fortier
1981, 103 min
$27, DVD
Watch film for free at NFB.
Read more about the film at Wikipedia
Available from Amazon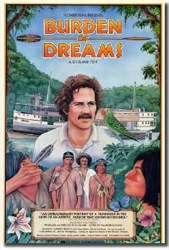 Occasionally, the movie about making the movie is the better movie. Les Blank's Burden of Dreams is the better movie which documents the filming of Werner Herzog's fictional movie Fitzcarraldo. Herzog imagines that his film hero, Fitzcarraldo, employs a small army of native tribesmen to haul a steamship over a mountain in the Amazon, from one river to another. For reasons clear only to himself, Herzog decides this super-human scene must not be done with special effects. Burden of Dreams records Herzog's 4-year obsession in trying to film native American tribesmen hauling an immense steamship over a mountain pass in the deep Amazon jungle. He becomes Fitzcarraldo, or maybe Captain Ahab. Herzog's blind determination whips him from one disaster to the next, making this journey both astonishing and incredibly mesmerizing. Like Hearts of Darkness, this is a peek into how a movie can drive one insane.
— KK
Burden of Dreams
Directed by Les Blank
1982, 95 min.
$3, Amazon Instant Video rental
Read more about the film at Wikipedia
Rent from Netflix
Available from Amazon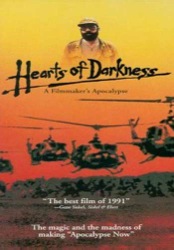 A film is like an invasion. Vietnam War's most memorable film, Apocalypse Now, like the war itself, nearly did in its creators. Francis Ford Coppola's wife filmed the director as his project sank deeper and deeper into sheer, irretrievable chaos. This is a strange case where the movie about the movie is just as good as the movie.
— KK
Hearts of Darkness
Directed by Eleanor Coppola
1991, 96 min.
$11, DVD
Read more about the film at Wikipedia
Available from Amazon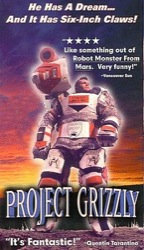 A Canadian outdoorsman who fancies himself a survival expert crosses the wrong side of a grizzly bear. The grizzly begins to attack him, but our hero stares the bear down, nose to snout, inches apart. In that moment of eye contact, our hero has a cosmic connection with the bear and vows to return to meet grizzly face to face again. But he's no fool, so he decides to invent a grizzly-proof suit. For the next seven years he spends hundreds of thousands of dollars developing the whackiest series of full-body armour outfits, each one stronger, stranger, and more invincible, but less mobile. In an insane logic he tests the suits by having speeding trucks knock him down or by swinging half ton blocks of concrete into his head. In his obsession to face grizzly he becomes a deranged captain Ahab, and you are both horrified, uplifted and transfixed as you watch him sink. It's captured for real; you couldn't make this one up.
— KK
Project Grizzly
Peter Lynch
1997, 72 min
$7, DVD
Watch film online at NFB.
Read more about the film at Wikipedia
Rent from Netflix
Available from Amazon
Back to Top