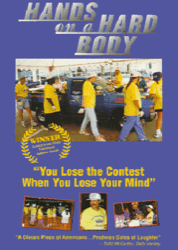 In the South of the US, where getting a new truck is a type of rebirth, there is a little-known contest whereby a truck dealer, as a publicity stunt, will offer a new truck to the person who can keep his/her hand on a truck the longest. Typically these endurance tests run 80-90 hours, or almost 4 days. During that time, contestants must stand awake, with at least one hand on the vehicle. Each hopeful is absolutely sure they will win (what does it take besides desire?) and the candid stories of their desires are wonderful. As the hours pass into days, fatigue and insanity take over so the outcome of the test is completely unpredictable. This small gem of a film is a testament to the indomitable spirit and outright brittleness of the human mind.
— KK
Hands on a Hard Body
S.R. Bindler
1997, 94 min
$20, DVD
Available for purchase here.
Rent from Netflix
Available from Amazon
Back to Top