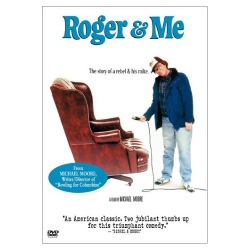 More guerilla theater than a documentary, this is a road trip by trouble-maker Michael Moore as he chases down an unwanted interview with the remote head of General Motors. Moore resorts to a bag of tricks and subterfuge to dispense his political message on the way. The result is funny, infuriating, verbose, sly, arrogant and hilarious all at once. If you like to watch the little guy tweek the big guy, you'll like this.
— KK
Roger and Me
Directed by Michael Moore
1989, 90 min
$2, Amazon Instant Video rental
Read more about the film at Wikipedia
Rent from Netflix
Available from Amazon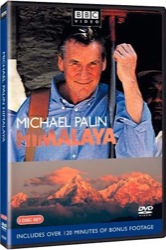 I love personal, quirky, off-beat travel, and Michael Palin, one of the original Monty Pythons, has his own eccentric travel down to an cinematic art. His BBC credentials give him access to odd little corners of the former British Empire, and so he takes us to many remote places across the breath of the Himalayas — one of the most exotic and peculiar regions in the world. I spent many years traveling in the Himalayas myself, yet Palin would turn up in places I had not even heard of. And of the places I did know, he got the spirit of the place just right. It doesn't hurt that spanning the Himmalays are several of the most interesting countries of the moment, including the essential and complex giants India and China, but also tiny Bhutan and Nepal, as well as hyper Pakistan and forgotten Bangladesh. Palin is very funny, extremely witty, and warmly intelligent about what he sees. He is the ideal travel companion, and in these 6 hours, he'll introduce you to the incredible diversity of culture hidden in the folds of this greatest range of mountains. I'd follow him anywhere.
— KK
Michael Palin: Himalaya
Directed by Roger Mills and John-Paul Davidson
2005, 352 min.
$12, DVD
Read more about the film at Wikipedia
Rent from Netflix
Available from Amazon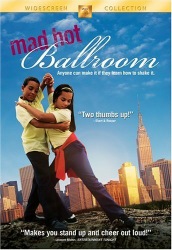 Fifth graders in New York City overcome their natural distaste for the other gender and learn ballroom dance after school. They are average kids, with no real desire to dance. But their schools compete for the grand championship dance-off with all the seriousness of any sport. Clumsy boys and precocious girls battle their bodies and overcome many personal hurdles to advance to the final round of tango, foxtrot and swing. This documentary follows a wide spectrum of kids as they contest. You hear their individual dreams and troubles. It's nicely constructed so the drama of who wins is a nice surprise that pulls you along for the grand dance.
— KK
Mad Hot Ballroom
Directed by Marilyn Agrelo
2005, 120 min.
$3, Amazon Instant Video rental
Read more about the film at Wikipedia
Rent from Netflix
Available from Amazon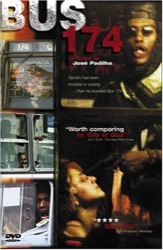 A gunman takes hostages on a public city bus in Brazil. The bus is stopped in full view of TV news cameras who then go on to record the horrifyingly inept police response. It is not everyday you get a front seat view in a disaster as it unfolds. You can also watch this as a documentary about corruption in the halls of power.
— KK
Bus 174
Directed by Jose Padilha
and Felipe Lacerda
2003, 120 min.
$7, DVD
Read more about the film at Wikipedia
Rent from Netflix
Available from Amazon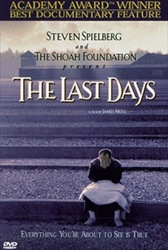 The gruesome truth about the Holocaust is that it was very cinematic. There must be hundreds of documentaries about this lowest point in human affairs. Examining that evil, this is one of the best views. It encapsulates the entire horror by following five survivors from Hungary in the last year (the last days) of the "final solution." Because of the desperation of the Nazis in their final months, these Hungarian camps were the most horrendous. The survivors tell their personal stories while they return to their Hungarian hometowns and death camps 50 years later. It's the factual counterpart to Schindler's List, all the more dramatic because this documentary was produced by Steven Spielberg.
— KK
The Last Days
Directed by James Moll
1998, 87 min.
$16, DVD
Read more about the film at Wikipedia
Rent from Netflix
Available from Amazon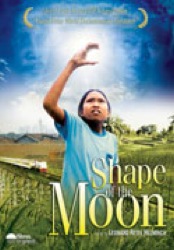 A magical work. This is perhaps the most authentic and non-cliched immersion into third world urbanity I've ever seen. Let's say you wanted to know what it would be like to live in a self-built squatter city. How do the residents make all of a life's arrangements work with so little? What do they dream about? This beautiful film perfectly captures the texture of a slum as home. No romance, no pity – only quirky complexity. You know how when you first visit a foreign place your eye focuses on small details that seem to embody the total essence of the place's strangeness? This film is like that. It's all attention, fascination and vibrancy. I can't recall a documentary more intimate; certainly no reality show comes close to a sense of 'being there' — especially when 'there' is an edge city in the middle of one of Earth's largest pools of human chaos. The cinematography is off-beat, original, and lyrical – almost poetry. The story is too odd to make up: The wayward son of a lone minority Christian widow converts to Islam to marry a girlfriend. Here's a glimpse of the mother and son's lives. It's about family, the slums, and Indonesia in transition. It also provides one of the keenest insights — far more revealing than you'll get by traveling as a tourist– into what Islam feels like in the street, where religion is culture and not belief. What a memorable trip!
— KK
Shape of the Moon
Directed by Leonard Retel Helmrich
2005, 92 min.
Read more about the film at Wikipedia
Rent from Netflix
Back to Top