Sons of The Endless Summer. All three of these recent documentaries are very satisfying overviews of surfing today. Step Into Liquid is actually made by the son of the filmmaker of the original Endless Summer surf fest — the granddaddy of all surf movies and road-trip documentaries. It's a fun roundup of how surfing has blossomed to become mainstream and recently technologically innovative. It presents some offbeat surfers, like the ones who ride behind oil tankers. Riding Giants, on the other hand, is a quick history of how surfers were seduced by bigger and bigger waves, and delves into the subculture of big wave surfers today. But for my money, the best of the three is Billabong Odyssey, which is the Endless Summer on steroids. The film follows a crack team of big wave surfers as they fly around the world seeking out really HUGE waves (60 plus feet), with the hope of (and prize for) first successfully surfing a 100-foot wave. It is hard to describe how monstrous and punishing these waves are, but with helicopters, water jets, rescue teams, and coast guard boats in support, you get an awesome view of giant wave surfing, and by all accounts a peak human moment. One gets a sense that surfing has just begun.
— KK
Billabong Odyssey
2003, 92 min.
Directed by Philip Boston
$8, DVD
Available from Amazon
Rentable from Netflix
Riding Giants
2004, 101 min.
Directed by Stacy Peralta
$8, DVD
Available from Amazon
Rentable from Netflix
Read more at Wikipedia
Step Into Liquid
2003, 87 min.
Directed by Dana Brown II
$3, Amazon Instant Video rental
Available from Amazon
Rentable from Netflix
Read more at Wikipedia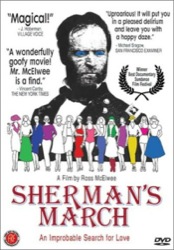 This film is not about the civil war, nor Sherman's March. It began with those, but the filmmaker quickly diverts his grant money to film his own autobiographical march through the south where he grew up. As he visits old girlfriends and finds new ones, his camera is running. He films himself painfully asking women why they won't marry him, or in private to himself, why he won't commit. This extremely internal journey sounds like a recipe for cinematic disaster and by every expectation this film should be a boring wreck. But it isn't. The film is saved by the women he meets. Each southern belle he records is more fascinating than the last, each looming larger, each unforgettable in an almost Dickensian way. While the filmmaker hides his anxieties behind his camera, a strange beauty erupts out of the intensity and passion of his girl friends. There are more interesting strong women in this film than any film I've seen. Nothing else visibly happens in the film. If you stare hard enough at normal life it begins to wiggle, and in this film an introspective guy keeps staring until the ordinary become astounding. The film is sweet and funny and oddly endearing.
— KK
Sherman's March
Directed by Ross McElwee
1986, 155 min.
$25, DVD
Read more about the film at Wikipedia
Rent from Netflix
Available from Amazon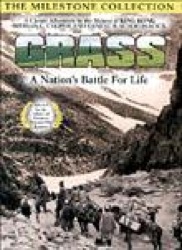 You think your job is tough? Try this one. In this very early documentary from 1925 — made in extremely harsh photographic conditions — two pioneering filmmakers (who went on to make King Kong) follow 50,000 Bakhtiari nomads as they set off on their annual hundred mile migration from the desert lowlands of Iraq over the snowy Zagros mountains into roadless pastures in Iran while driving 500,000 (!!) goats, sheep and horses. Instead of riding on the backs of donkeys, small children will haul ailing donkeys *on their backs* as they scale cliffs, cross glaciers barefoot, or ford immense white water rivers with goatskin floats. And then 6 months later they return to complete this unbelievable feat of endurance again. It's an eye-witness glimpse of a truly nomadic lifestyle which forms the archetypes of the Bible and the mid-east today, and of mind-boggling hardship. Like Nanook of the North, this rarely seen movie is the both the first and the last photographic capture of this distant world.
— KK
Grass: A Nation's Battle for Life
1925, 71 min.
Directed by Merian Cooper and Ernest B. Schoedsack
Read more about the film at Wikipedia
Rent from Netflix
Available from Amazon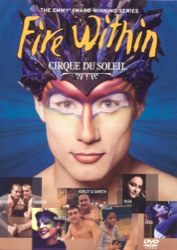 The pain and agony of creation. An extensive 6-part window in to how to craft a world-class acrobatic extravaganza piece by piece. The price of pain and sacrifice that each performer must pay is revealed. Cirque du Soleil is the best show on earth these days; here is how they create it, from first pitch to opening night. The human drama of this series — which acrobats or acts will stay in, and will they make the cut? — captivated my family. They devoured the very addictive 5 hours in a couple of sittings. If you ever wanted to run away to the circus, you need to see this first. The lesson I took away was this: every great work arrives only after continuous near-death experiences of the whole project.
— KK
Cirque du Soleil: Fire Within
Directed by Christopher Dyson
2004, 286 min.
$12, 3-Disc Series
Read more about the film at Wikipedia
Rent from Netflix
Available from Amazon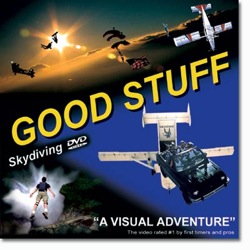 Supremely bored skydivers go for thrills. They push trucks and cars out of planes and ride them down. They recline on a living room couch and watch TV as they plunge to earth. They sky surf. They don wings and glide across the horizon at 90 miles and hour. They perform every antic while free falling you can think of. One loser jumped out without wearing his parachute, on purpose. Yeah, he lived but it's definitely a stupid trick. Boredom is enemy of the sane and the mother of invention!
— KK
Good Stuff
By Joe Jennings
2001, 125 min.
$20, DVD
Available for purchase here.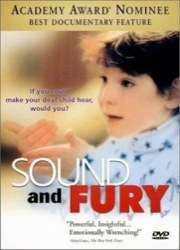 Many deaf people reject the idea that deafness is a handicap. To the shock of the rest of us, the hearing, they view the *loss of deafness* a sin. The passion to remain deaf is brought into conflict with conventional norms in this amazing documentary when two brothers — one deaf and one hearing — need to decide whether to give their deaf children cochlear era implants. Complicating this decision are their unusual families. The deaf brother married a deaf woman and they have 3 deaf children. They refuse to let their incredibly bright 5-year-old deaf daughter get the cochlear ear implant which she wants. They are afraid she will lose the joys of deaf culture. The hearing brother married a hearing woman of two deaf parents, and they have a deaf son. His and his wife's decision to give their newborn synthetic hearing, in opposition to his wife's two deaf parents, puts their families in turmoil (the conflicted parents of the brothers pivot in the center). The fighting escalates till it riles both the proud deaf community and the fix-deafness medical community at large. Everyone hand signs in the films; you follow along with narration, so your immersion into deaf culture is total, deep, shocking, and extremely rewarding. As impossible as it is to believe before you start this great film, for a brief moment you side with the *remain forever deaf* folks.
— KK
Sound and Fury
2000, 80 min.
Directed by Josh Aronson
$14, DVD
Read more about the film at Wikipedia
Rent from Netflix
Available from Amazon
Back to Top